Yellow Lab with Opened Lump
by Ryan H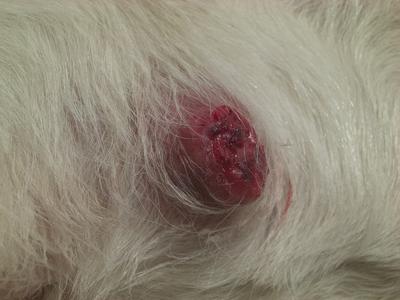 Opened Lump - Photo 1
My dog is a VERY LUMPY DOG and has been since early on. He has only one lump that is "external" which just opened up. It is about 1.5 inches.


I noticed a couple weeks ago that a scab was forming on the top portion of it. He started tugging at it for a couple of days every now and then but then just pretty much left it alone for the last couple weeks. This morning it opened, he has been cleaning it as needed but has mostly left it alone. It's not bleeding much and appears to be scabbing up already.
He's as starving as he always is, ready to go for a walk, his fur coat is great and seems to have no symptoms of anything other than this nasty looking thing!
Is there anything I can/should do for it/him? Is there anything he can take, any special treatment, do I need to take him in or will he take care of it himself? He is terrified of the vet, and so am I... :0)
Male Yellow Lab, fixed, 11 years old, 78 lbs
Food: Homemade, twice daily; meat, veggies, fruit, brown rice, eggs, yams, etc.
Supplements once daily: glucosamine/chondroitin, fish oil, colostrum and MAX3 (IP-6 & Inositol plus Maitake & Cat's Claw... started taking about 7 months ago)
Last vaccinations: Stopped giving after 7 years of age
Last vet visit: 6 months ago VCA's Senior Best Care Check-Up; complete history & physical exam, blood work (CBC + 30 tests), urinalysis, fecal, heartworm, blood pressure, x-rays (chest, abdomen). We also had them do cytology on all of his lumps including the one I am writing about today. Results of Senior Best Care Check-up plus cytology, "EVERYTHING LOOKS AWESOME!"
Thank you,
Ryan
Want to ask our veterinarians a question but haven't subscribed to My Online Vet? Click here to learn how or click here to go back to the Ask a Vet Online Library of questions.
Want monthly "News You Can Use" and important Organic Pet Digest new content updates? Click here to sign up for our FREE Dog Care Monthly newsletter.
Do you believe in holistic pet care? If so, please tell your friends about us with a Facebook like, Google +1 or via Twitter, Pinterest, email or good old fashioned word of mouth. Thank you for supporting our efforts!
For additional research, search for your topic...
Also see...
Disclaimers: The information contained in this web site is provided for general informational purposes only. It is not intended as nor should be relied upon as medical advice. Rather, it is designed to support, not replace, the relationship that exists between a pet owner/site visitor and his/her local veterinarian(s). Before you use any of the information provided in the site, you should seek the advice of a qualified professional.
In the spirit of full disclosure, we wanted to let you know that we proudly support this website through advertising and affiliate marketing. In other words, when you click on a link that takes you outside of this website, we often earn a small commission. These small commissions allow us to keep the site up and running and to continue offering it completely free of charge to you. Rest assured that all content, recommendations and advice are created before, and are independent of, any sponsorship or affiliate relationship.
Click here
for more info.