White Dots on Dog's Eyes
by Melissa
(Stromsburg, NE)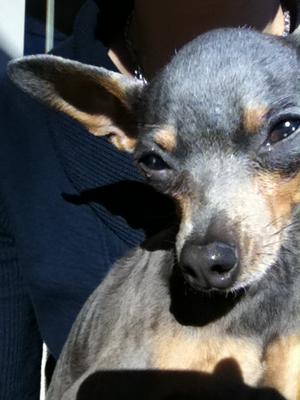 you can see the spots
On Dec 31, 2012 I took my dog Blueberry to a vet because her eyes had been very squinty and watery and she was somewhat pawing her eyes as if they bothered her. The vet did the fluorescent test to make sure there was no injury to the cornea and then sent me home with no diagnosis but a tube of neomycin and polymyxinB sulfates and dexamethasone ophthalmic ointment. I used it for 10 days and weaned her off of it.


I knew it probably was not good to use the prescription any longer than most necessary. Her eyes seemed to clear up initially and then started showing signs of irritation again. I used the cream sparingly every other day for a couple weeks and then noticed she had white dots (like the end of a pencil lead), 4 on one eye and 1-2 on the other show up.
Her eyes do seem bluish and foggy and at times she seems irritated with them. I upped the amount of probiotic I used, added colloidal silver to her food and water and called the vet again. He didn't seem to think there was any real danger and thought there would be another cream I could use in conjunction with the previous prescription he gave.
I was also told that I could continue to use the neomycin on her if it seemed to give her relief. Well, I know I can't do that forever, she is only four and this could certainly be managed a different way.
Blueberry is a 5
lb. Blue Min Pin who just turned 4. She was over vaccinated and dipped for mange too much before the age of 6 months and was a very sick puppy.
A chiropractor helped to detoxify her poor kidneys and we have been slowly heading up a slight incline of better health.
I have resisted more vaccinating and been very cautious around our vet. I have given her pet probiotics for the last 3 years in an attempt to give her immune system some support.
I do believe her system is hyper sensitive now and we deal with random health issues from time to time.
I have been researching a raw food diet. She loves eggs and carrots and anything I would give her on occasion. We switched her to a grain-free kibble about a year ago and it was the first time that we felt she is keeping her food down with less gastrointestinal upset.
But, I am wondering if the protein and no grain has caused a mineral or vitamin deficiency. I worry about her immune system and am trying to do everything to avoid overwhelming her system.
I am wanting to try some natural options like raw foods or adding silver directly in her eye but need to make sure that by avoiding the vet at this point, I am not doing further damage to her vision.
The vet did not seem alarmed, although he did not see these spots and I know he will send me home with another medicine to use. He mentioned possible dry eye?
Want to ask our veterinarians a question but haven't subscribed to My Online Vet? Click here to learn how or click here to go back to the Ask a Vet Online Library of questions.
Want monthly "News You Can Use" and important Organic Pet Digest new content updates? Click here to sign up for our FREE Dog Care Monthly newsletter.
Do you believe in holistic pet care? If so, please tell your friends about us with a Facebook like, Google +1 or via Twitter, Pinterest, email or good old fashioned word of mouth. Thank you for supporting our efforts!
For additional research, search for your topic...
Also see...
Disclaimers: The information contained in this web site is provided for general informational purposes only. It is not intended as nor should be relied upon as medical advice. Rather, it is designed to support, not replace, the relationship that exists between a pet owner/site visitor and his/her local veterinarian(s). Before you use any of the information provided in the site, you should seek the advice of a qualified professional.
In the spirit of full disclosure, we wanted to let you know that we proudly support this website through advertising and affiliate marketing. In other words, when you click on a link that takes you outside of this website, we often earn a small commission. These small commissions allow us to keep the site up and running and to continue offering it completely free of charge to you. Rest assured that all content, recommendations and advice are created before, and are independent of, any sponsorship or affiliate relationship.
Click here
for more info.