Weird growth on my puppy's left leg
by Francis Lopez
(Secaucus, NJ, USA)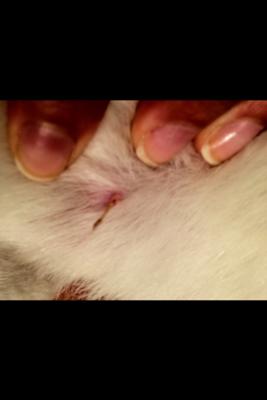 Our 1 yr 6 month old female Pekingese developed a growth/bump on her back left leg close to her genital area, but not so close is in the middle of her left before the bone that separates the leg and allows it to move.


It seems like it does not bother her at all, and we only noticed when yesterday we try to trim her hair and saw it. Last time I trimmed her (about 3 months ago) I did not noticed this growing thing that I though was a wart but I'm not sure.
My husband wanted to rip it off but I noticed it was pinkish and looks like skin at the bottom of it and said stop it may cause her to bleed and ruin the grooming for us so we trimmed over it and left it right where it was.
I initially though it was a wart caused by dirt she picks up from her walks because it is close to her genitals and she bends down every time she pees or poop , but the pictures on your page look different so I got confused. we do not have pet Insurance, and if is something as simple as a wart It may save us some money to ask you guys how we can treat this at home and the specific medicine and place to buy it. If we have no choice then the visit to the doctor may costs hundreds of dollars.
We got her from a breeder for about 800 dollars and
she had done all her shots according to them and the paperwork. She has inside her body a chip that identifies her breeder if she gets lost.
We have taken her to the vet about three times since we got her. She was four months old when we bought her. The vet gave her a town rabies shot right away and one more a year later which was a few months ago.
She also had diarrhea and vomiting and we took her and they prescribed her antibiotics. They are very expensive, in total we have seen them 3 times since we acquired her..last visit was her second rabies shot like I said a few months ago.
Since we got her from a breeder a detailed explanation of her background was handed to us and we know she came from the state of Arkansas and we live in New Jersey. Her parents and her shot history was also handed to us. She had all her shots up to date - we only needed to give her the town rabies shot.
The only other new thing I though off was to buy that pharmacy over the counter wart remover (wart off) and place it right on the growth, see what happens. I love my dog very much and would like to get an opinion from an expert before I do this.
The picture posted is from tonight.
I hope that is enough information to help you figure out what the problem is and how we can help get rid of it.
Want to ask our veterinarians a question but haven't subscribed to My Online Vet? Click here to learn how or click here to go back to the Ask a Vet Online Library of questions.
Want monthly "News You Can Use" and important Organic Pet Digest new content updates? Click here to sign up for our FREE Dog Care Monthly newsletter.
Do you believe in holistic pet care? If so, please tell your friends about us with a Facebook like, Google +1 or via Twitter, Pinterest, email or good old fashioned word of mouth. Thank you for supporting our efforts!
For additional research, search for your topic...
Also see...
Disclaimers: The information contained in this web site is provided for general informational purposes only. It is not intended as nor should be relied upon as medical advice. Rather, it is designed to support, not replace, the relationship that exists between a pet owner/site visitor and his/her local veterinarian(s). Before you use any of the information provided in the site, you should seek the advice of a qualified professional.
In the spirit of full disclosure, we wanted to let you know that we proudly support this website through advertising and affiliate marketing. In other words, when you click on a link that takes you outside of this website, we often earn a small commission. These small commissions allow us to keep the site up and running and to continue offering it completely free of charge to you. Rest assured that all content, recommendations and advice are created before, and are independent of, any sponsorship or affiliate relationship.
Click here
for more info.