Weight Loss and Energy Gain for Old Dog
by Kevin
(San Diego, CA)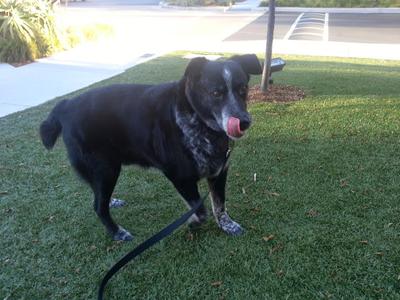 Hello! Meet Ollie, the old mutt, with an estimated age of 10-11 years old. He weighs 63 pounds and can stand to lose about 5-10 pounds.


He is a very low energy dog. Most mornings he does not want to go on his walks, and it's not until about 5 PM each day that he really wakes up and is interested in going out and exploring. I believe he has very low metabolism due to his inactivity.
I have tried multiple dog foods: Science Diet Adult Longevity, Hill Prescription J/D, Wellness Core Weight Management, and now he's eating Orijen Senior.
I only give him about 700 calories a day, and does not seem overly hungry, but as mentioned, he's also very inactive. I have considered feeding him more, which I think might increase his energy but also add to his weight.
It's kind of a Catch-22, he doesn't eat a whole lot because I want him to lose weight but I can't get him to exercise to get the weight to come off because he is always so tired.
He does have joint / arthritic issues, and for that he is on Dasuquin, fish oil, and Deramaxx. I feel that his inactivity is due more to his low energy levels than his arthritis.
The vet looked at all his blood levels, checked his thyroid, and everything seems to be fine there. Oh, also, he used to wag his tail all the time, but now he never does.
My question is, how I can get him to lose weight and increase energy so he can enjoy his remaining days?
Want to ask our veterinarians a question but haven't subscribed to My Online Vet? Click here to learn how or click here to go back to the Ask a Vet Online Library of questions.
Want monthly "News You Can Use" and important Organic Pet Digest new content updates? Click here to sign up for our FREE Dog Care Monthly newsletter.
Do you believe in holistic pet care? If so, please tell your friends about us with a Facebook like, Google +1 or via Twitter, Pinterest, email or good old fashioned word of mouth. Thank you for supporting our efforts!
For additional research, search for your topic...
Also see...
Disclaimers: The information contained in this web site is provided for general informational purposes only. It is not intended as nor should be relied upon as medical advice. Rather, it is designed to support, not replace, the relationship that exists between a pet owner/site visitor and his/her local veterinarian(s). Before you use any of the information provided in the site, you should seek the advice of a qualified professional.
In the spirit of full disclosure, we wanted to let you know that we proudly support this website through advertising and affiliate marketing. In other words, when you click on a link that takes you outside of this website, we often earn a small commission. These small commissions allow us to keep the site up and running and to continue offering it completely free of charge to you. Rest assured that all content, recommendations and advice are created before, and are independent of, any sponsorship or affiliate relationship.
Click here
for more info.