Wart on outside of dog's ear
by Kat
(Wisconsin)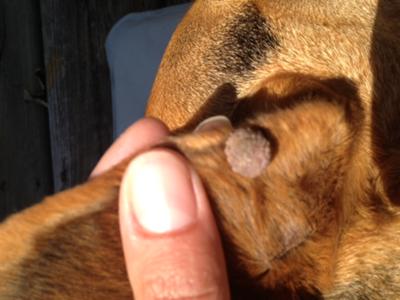 Wart on outside of ear
I have a male beagle mix that is appx 4 years old and 35 pounds. On June 4th I noticed something stuck to the fur on the outside of his ear. At first glance I thought it was a speck of dried mud from playing outside or a wood tick, but upon closer inspection I realized that it was some type of wart or growth.


It was dark pinkish-grey in color, round but with the slight cauliflower look when closely inspected, and roughly the size of a pencil eraser. He didn't fuss after it, scratch it, or show any signs of discomfort when I "examined" it.
Also, it is located on that odd little flap of skin most dogs have right behind the crease where the ear folds over. Thus I am able to clearly see the "underside" of where it is growing and there are no signs of redness or spreading. After doing some online research, I adopted the "monitor, wait, and see" approach.
As of this writing (3 weeks later on 6/26), it has grown to roughly twice its prior size (see photos from today ~ it is now about the size of a plump raisin or small grape). All of the aforementioned still hold ~ namely its general color/texture/appearance are the same, the fact that he doesn't fuss at it, etc. I have examined him thoroughly and don't see any other growths like this on him.
He has always been a happy, healthy, active dog. He last received vaccinations on 4/04/12 (DHLPP and Bordatella), had a clean heartworm check during that visit, and last received flea/tick treatment (Advantix) in early May. He has an adopted brother and several regular playmates, none of which have developed this kind of growth that I have found or am aware of (obviously I'm somewhat concerned about this being contagious).
I am going to purchase and apply Vitamin E daily starting today to see if that helps. In the meantime, I am most curious to hear if you agree this is likely a simple wart or if you see some reason for additional concern and a more immediate trip to my vet.
If there's no reason for immediate concern and you're a proponent of giving the Vitamin E (or other home remedy?) a chance to work... how long might it take to see a positive response to the Vit E? What other guidelines or considerations would you have if it continues to grow, changes in some other way, or fails to shrink and fall off??
Thank you for your help!
Want to ask our veterinarians a question but haven't subscribed to My Online Vet? Click here to learn how or click here to go back to the Ask a Vet Online Library of questions.
Want monthly "News You Can Use" and important Organic Pet Digest new content updates? Click here to sign up for our FREE Dog Care Monthly newsletter.
Do you believe in holistic pet care? If so, please tell your friends about us with a Facebook like, Google +1 or via Twitter, Pinterest, email or good old fashioned word of mouth. Thank you for supporting our efforts!
For additional research, search for your topic...
Also see...
Disclaimers: The information contained in this web site is provided for general informational purposes only. It is not intended as nor should be relied upon as medical advice. Rather, it is designed to support, not replace, the relationship that exists between a pet owner/site visitor and his/her local veterinarian(s). Before you use any of the information provided in the site, you should seek the advice of a qualified professional.
In the spirit of full disclosure, we wanted to let you know that we proudly support this website through advertising and affiliate marketing. In other words, when you click on a link that takes you outside of this website, we often earn a small commission. These small commissions allow us to keep the site up and running and to continue offering it completely free of charge to you. Rest assured that all content, recommendations and advice are created before, and are independent of, any sponsorship or affiliate relationship.
Click here
for more info.