Wart on Dog's Head Changing & Getting Bigger
by Erin
(Ottawa, Ontario, Canada)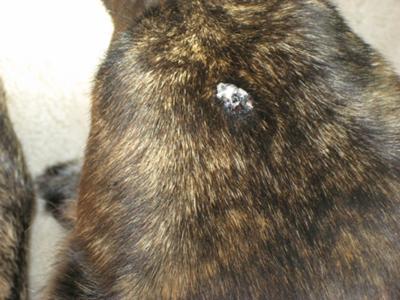 Starting mid summer (late July), I noticed a wart on my 6-year-old dog Roxy's head. It started as a small bump, but it continues to change and get bigger.
I showed my vet and he didn't seem concerned... he just said dogs get these and it is probably some type of wart. I asked if I could remove it with wart remover, and he said it wouldn't work on dogs. However, he quoted anywhere from $250-500 to remove the wart depending if he had to use general anesthetic.
This is a lot of money for a wart, but it continues to get bigger. It's probably grown by about 50% since we saw the vet 3 weeks ago. Also, it seems to bleed from time to time.
My husband wants me to try the wart remover, but I really don't feel comfortable doing it.
My questions is:
1. Do you know what type of wart this likely is?
2. Can it be removed by any home remedy or something available at the drug store? If so, what do you recommend?
3. Is there a possibility of this being cancer, and could I make it worse by treating it myself?
Want to ask our veterinarians a

question but haven't subscribed to My Online Vet? Click here to learn how or click here to go back to the Ask a Vet Online Library of questions.
Want monthly "News You Can Use" and important Organic Pet Digest new content updates? Click here to sign up for our FREE Dog Care Monthly newsletter.
Do you believe in holistic pet care? If so, please tell your friends about us with a Facebook like, Google +1 or via Twitter, Pinterest, email or good old fashioned word of mouth. Thank you for supporting our efforts!
For additional research, search for your topic...
Also see...