Unusual Dog Toys for Your Buddy
Finding unusual dog toys that will both stimulate your dog's senses and last longer than one week can be a challenge. These unique dog toys often look fun and exciting to us, but once they make it home and into our dogs mouths they can turn out to be a complete waste of money.
So… stop throwing your money away on useless, flimsy, unstimulating dog toys and give a few of these award-winning unusual dog toys a try!
West Paw Design Zogoflex Hurley
Talk about fun… these toys can do just about anything, except end up in a destroyed pile on your floor!
The Zogoflex Hurley is a playful and colorful toy that bounces, bends and floats. It's great for your determined little chewer or a puppy that is teething because it's made from state-of-the-art "dog material" called Zogoflex.
The Zogoflex Hurley is:
Safe and Durable
Made from recycled materials
Non-toxic and latex-free
Bouncy, bendable, chewable and buoyant
Available in two sizes:
Price ranges from $9.49 – $12.49
West Paw Design Zogoflex Zisc
The Zogoflex Zisc is another awesome unique dog toy for dogs that love to play fetch. Just like the Hurley, it's made from the Zogoflex material which is tough, buoyant, pliable and non-toxic.
Winner of the Pet Business 2006 Dealer Choice Award, it's a new idea in the world of flying discs. Made with bright attractive colors and a fun paw design on the top, this zisc is sure to be your dogs all time favorite fetch toy.
The Zogoflex Zisc is:
Non-toxic and made from recycled materials
Durable, buoyant and pliable
Fast and accurate
Soft and safe for your dog's mouth>
Great for play in the park or at the lake
Available in three colors- Blue, Green and Orange
Price is $13.49
Babble Ball Interactive Toy
This toy is entertainment for both you and your dog! The Babble Ball Interactive Toy is a great unusual dog toy that is sure to keep your pooch entertained for hours.
These Babble Balls are interactive toys that talk or make exciting animal sounds when touched. According to the manufacturer, this is an improved model that is so sensitive it can be triggered by a pet simply breathing on it! It turns off automatically when not in use.
Our dog loves this babble ball and could truly play with it all day long. It scared her a bit at first, but eventually her curiosity won the battle and now she can't get enough. She likes to pick up the ball in her mouth and then drop it on the floor, just to see what noise it will make. It's so much fun!
The Babble Ball is:
Available in two different types:

The Talking Babble Ball says more than 20 wisecracks or sounds>

The Animal Sounds Babble Ball has more than 20 different animal sounds

Features durable high impact ABS construction
New and improved sound quality
Available in three sizes perfect for dogs from 10 lbs to 80 lbs and up
Price ranges from $7.99 - $9.99
Loofah Dog Toys
Now here's some unusual dog toys that provide hours of exciting entertainment with the benefits of tartar removal and overall dog gum and tooth care.
The Loofah Dog Toys are made with 100% USDA Certified Organic Loofah which comes from real vegetables and is completely safe if ingested by your dog.
There are lots of Loofah Pet Toys to choose from and they are all very bright and colorful with funny extremities and plenty of chewable enjoyment to be had by your pup.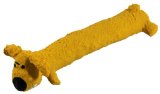 The Loofah Pet Toy qualities include:
USDA certified organic
Helps promote teeth and gum health
A tree is planted for every Loofah toy sold
Your purchase helps support Bahia Paraiso Preserve Animal Shelter
There are 12 Loofah toys to choose from
They are $4.00 each
These unusual dog toys are fun and also support a great cause! Buy a few for your dog and its friends to enjoy together!
Nina Ottosson Dog Smart Game
Is your dog exceptionally smart?
Well, I know that most of us feel like our dog is the smartest most adorable dog in the whole wide world, but there are actually ways to raise your dog's IQ to make them even smarter!
It is essential for our dogs to be stimulated through play and exercise but there are certain dog games and dog toys that will pose a real challenge for the canine brain cells.
The Nina Ottosson Dog Smart Game is one of the unusual dog toys that will allow you to interact with your dog while creating a fun "quiz" type of game for them.
The Dog Smart Game consists of a round wooden board with holes around the edges and small hollow pegs that fit perfectly into the round holes. You will place your dog's favorite treats under certain hollow pegs and then challenge your dog to figure out where the treats are hiding and how to get them out of the game board and into their mouth!
This game is made in an environmentally friendly manner. All non-wood parts are made from recycled materials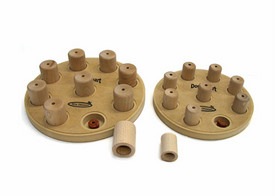 IMPORTANT: This game is intended for use only when you are available to supervise and assist. There are small wooden pieces involved that should not be chewed or swallowed. Make sure you don't leave it lying around on the floor for your dog to find.
This game comes in two sizes and costs about $40.00.
Do you believe in holistic pet care? If so, please tell your friends about us with a Facebook like, Google +1 or via Twitter, Pinterest, email or good old fashioned word of mouth. Thank you for supporting our efforts!
New! Comments
Have your say about what you just read! Leave a comment in the box below.
For additional research, search for your topic...
Also see...
Disclaimers: The information contained in this web site is provided for general informational purposes only. It is not intended as nor should be relied upon as medical advice. Rather, it is designed to support, not replace, the relationship that exists between a pet owner/site visitor and his/her local veterinarian(s). Before you use any of the information provided in the site, you should seek the advice of a qualified professional.
In the spirit of full disclosure, we wanted to let you know that we proudly support this website through advertising and affiliate marketing. In other words, when you click on a link that takes you outside of this website, we often earn a small commission. These small commissions allow us to keep the site up and running and to continue offering it completely free of charge to you. Rest assured that all content, recommendations and advice are created before, and are independent of, any sponsorship or affiliate relationship.
Click here
for more info.