Underweight Dog with Irritable Bowel Syndrome (IBS)
by Karen
(MA)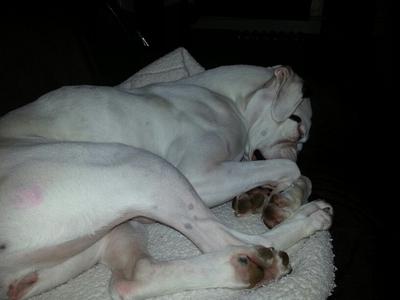 She's a bit thinner than this now
My (almost) 4 year old white boxer has always been a skinny girl. She has never been over 50-55lbs. She was diagnosed with IBS after bouts of violent diarrhea and loose stools.


We tried to switch her food a few times and ended up with Natural Balance Sweet Potato and Bison L.I.D. Always a beyond good eater, always hungry. She was getting 2 cups of food 3x a day to gain weight.
She does have allergies to 5 types of grasses, 3-4 types of trees, mold, dust and a host of other pollens and allergens. We have a hepa filter in the bedroom, she sleeps on an organic cooling bed in her crate.
My husband also has allergies so we were giving her benadryl 3x a day but I got concerned about the dye on the pills.
So she does exhibit rolling on the rug, rubbing her face, rubbing her back on the rug.
She also has tear stains but she hasn't been to the groomer in a long time and usually they take care of that.
She did present with an ear infection as a puppy and we used Otomix for it and she responded very quickly to this. Usually tear stains tell us she has an ear infection but this time no ear issues just the stains.
In the past 2 years she has gone to a daycare 2x a week from 7a-6p. She loves it! Her energy level is crazy when she gets ready to go and knows when she is going!
She has had kennel cough on 2 or 3 separate occasions and the vet put her on antibiotics. She also had an interdistal cyst on her right rear paw that burst and required a vet trip and antibiotics again. She recently had another one on her back left paw and we dealt with it at home. She appeared to be fine and it healed very quickly!
Within the past 3 months she has had 3 incidents of violent diarrhea and vomiting. She had one bout while my husband was on a run and she was in her crate. He had to clean her up and other than that her behavior was fine. She was eating and drinking (she never really drinks water) fine.
She had another in May when we went away. She had stayed at her daycare was home a day and then that night I could hear her panting in her crate, took her out and she vomited and had explosive diarrhea. She was otherwise fine, had diarrhea for a few days we put her on chicken and rice, kept her out of daycare for a week and sent her back.
She had another after a July stay at her daycare on the hottest days of the summer in July this year...same incident as above but this time she didn't rebound as quickly. I contacted the vet and they said chicken and rice until she was better. Her poop never got solid again with her food so I switched her to chicken and rice for a couple weeks. She hasn't been back to daycare.
She is soooo skinny now and she seems so sad
because every time I go to leave the house she runs for the door and thinks she's going to daycare.
When I say skinny, her ribs are showing, hip bones....She is now eating a mixture of whole chicken (no bones), sweet potato, carrot, rice, bone meal, brewer's yeast...she gets 1 cup 3x a day and she gets kefir (1 Tablespoon) in the morning, at lunch she gets some chicken broth at lunch and water with dinner...she does not drink water usually so we make sure that her meals are "juicy" with liquid. We used to give her ice but then all these confusing stories came out and it made me crazy so I stopped. I'm getting a vitamin tomorrow to add to her meals and I also was told about a bovine based supplement that our dog care owner uses for her dogs and she and her family thought about trying that.
The other thing I noticed for a long time but have been told that it could be related to her being spayed is leaking urine. She is usually on the couch with me sleeping...like now when it happens or she'll be walking around the house with a long "string" hanging.
She's been playful and you can get her riled up pretty quickly but I do believe her days at daycare kept her happy and healthy. She is peeing and pooping. Her poop has finally gotten solid with the diet change although with the sweet potato and carrots it's orange!
I just feel awful but my husband doesn't want to take her to the vet yet. He says that it will take time to get her to a healthy weight and we should be patient and send her back to daycare albeit shorter hours.
I am concerned that she is so thin and we might not be feeding her enough or I'm killing her with this diet and I should run to the store and buy her some crap food and feed her 10x a day! She appears ravenous but I don't want to feed her too much and have other issues. She is a white boxer so if she were dark like our others I probably wouldn't be freaking out but she's white and everything stands out!
She's a wicked snuggle bug and will kiss and love on you for day but I just want her to be healthy! I did consult with her breeder and we did add yogurt into her diet again (I switched to kefir this week) and pumpkin. Both of which she had as a puppy. She was fine with those. She also suggested satin balls and I made them and they are raw and frozen in my freezer but I'm afraid to make her sick by giving them to her!!!
Wow I hope I covered everything! I have no idea how much she weighs but I will say 40-42lbs and she's tall.
Thank you for any suggestions even if it means traditional bag food, a visit to the vet, anything to help her and make me sane...I really am a mess but my husband is relaxed about all of this and I'm making him crazy!
Karen
Want to ask our veterinarians a question but haven't subscribed to My Online Vet? Click here to learn how or click here to go back to the Ask a Vet Online Library of questions.
Want monthly "News You Can Use" and important Organic Pet Digest new content updates? Click here to sign up for our FREE Dog Care Monthly newsletter.
Do you believe in holistic pet care? If so, please tell your friends about us with a Facebook like, Google +1 or via Twitter, Pinterest, email or good old fashioned word of mouth. Thank you for supporting our efforts!
For additional research, search for your topic...
Also see...
Disclaimers: The information contained in this web site is provided for general informational purposes only. It is not intended as nor should be relied upon as medical advice. Rather, it is designed to support, not replace, the relationship that exists between a pet owner/site visitor and his/her local veterinarian(s). Before you use any of the information provided in the site, you should seek the advice of a qualified professional.
In the spirit of full disclosure, we wanted to let you know that we proudly support this website through advertising and affiliate marketing. In other words, when you click on a link that takes you outside of this website, we often earn a small commission. These small commissions allow us to keep the site up and running and to continue offering it completely free of charge to you. Rest assured that all content, recommendations and advice are created before, and are independent of, any sponsorship or affiliate relationship.
Click here
for more info.