Thin pink area around dog's eye
by Christina
(Utah)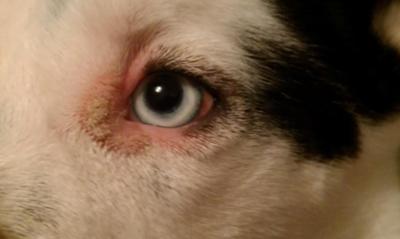 Our 6 mo old male Siberian husky has had a thin pink area around his eyes for a few months, the left one being the most significantly noticeable. The pink rim stayed about the same size for a few months, but last few weeks he has been loosing more hair around his eye and the bare pink skin area is becoming larger. We have not noticed any real discharge or any injury to the actual eye. We have not used anything in the eye.
We took him to a vet for vomiting and diarrhea about 6 weeks ago and the vet did not say anything about the eye. We were not too concerned with it since it had been staying the same size.
He is mainly an inside dog & is not around other animals that we know of. We have done some research on eye problems for dogs, & for huskys in particular, but have not been able to find anything about the skin surrounding the eye.
Thank you for any advice you can give us.
Want to ask our veterinarians a

question but haven't subscribed to My Online Vet? Click here to learn how or click here to go back to the Ask a Vet Online Library of questions.
Want monthly "News You Can Use" and important Organic Pet Digest new content updates? Click here to sign up for our FREE Dog Care Monthly newsletter.
Do you believe in holistic pet care? If so, please tell your friends about us with a Facebook like, Google +1 or via Twitter, Pinterest, email or good old fashioned word of mouth. Thank you for supporting our efforts!
For additional research, search for your topic...
Also see...