Swollen Third Eyelid Quickly Getting Worse
by Suzanne R.
(Dickinson, ND)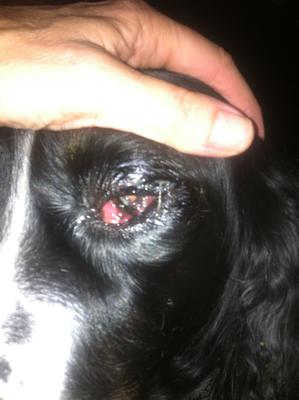 Holding Josie's eye open before wiping discharge
My 7-year old springer spaniel, Josie, developed a problem with her right eye about a week ago, and it has gotten rapidly worse. It began with tearing and red swelling in the inside corner of her eye, leading me to suspect an infection.


I took her to the vet, who prescribed a steroid/antibiotic drop to reduce swelling. She did not see evidence of a foreign object in the eye, nor did she see signs of infection.
She used a stain to check for cornea damage before prescribing the drops, and found no damage. She did no blood work, and did not do a physical examination of any other part of Josie's body.
Unfortunately, the condition worsened considerably over the next 24 hours, leading me to visit the vet again two days after the first visit. The third eyelid had become quite red and swollen, covering most of the eye, and there was noticeable swelling above and below the eye.
The vet prescribed Augmentin 1000 mg, Neopoly Bac Eye Ointment, and Rimady 100 mg; we have given these as prescribed for two days now.
Unfortunately, the situation has worsened. The eye is now swollen shut. The third eyelid is now quite swollen with a visible brown area on its side, and Josie has begun to frequently wipe it and lick the matter off of her paw.
It appears to be itching rather than painful, though she did yelp when my son bumped into her eye.
The discharge is mostly clear, although there has been occasional yellowish substance. The pictures show her eye before and after I wiped it, and in both situations the eye was closed until I pulled it open.
Josie has been eating, drinking, and exercising normally, but she was lethargic and potentially feverish
earlier in the day before the serious discharge began. Now, aside from the itching and lack of sight (due to swelling), she does not seem particularly bothered.
We live in western North Dakota and walk her daily off leash, both in the badlands and in a prairie area with wetlands and a lake into which she occasionally swims.The last time she swam was a day or two prior to the first time I observed the tearing, and it was in a rather swampy area.
About a week and a half prior to that, we were walking in the badlands where yucca, prickly pear, juniper, sage, and rattlesnakes are present.
We normally do not have many mosquitoes in this arid country, but a spate of wet weather has brought an abundance of mosquitoes this year. We do have dog ticks in spring, but we do not have deer ticks, nor have I seen any dog ticks in the last several months.
Josie has had all of her vaccinations, but I am sorry to say that we are late on the heartworm medication. She has had Frontline for ticks, but that too we stopped in July. We have had her since she was six weeks old.
Our veterinarian seems quite competent, but she is new and inexperienced and terribly busy with the excessive demands from the population surge accompanying the oil boom. We do not have specialists in this area, and I suspect the doctor will recommend we take her 500 miles to the Twin Cities to see a specialist if the eye continues to worsen.
In fact, she already mentioned this possibility. I would rather have a more certain idea of potential problems before making that significant commitment of time and money. Your advice is most welcome.
Want to ask our veterinarians a question but haven't subscribed to My Online Vet? Click here to learn how or click here to go back to the Ask a Vet Online Library of questions.
Want monthly "News You Can Use" and important Organic Pet Digest new content updates? Click here to sign up for our FREE Dog Care Monthly newsletter.
Do you believe in holistic pet care? If so, please tell your friends about us with a Facebook like, Google +1 or via Twitter, Pinterest, email or good old fashioned word of mouth. Thank you for supporting our efforts!
For additional research, search for your topic...
Also see...
Disclaimers: The information contained in this web site is provided for general informational purposes only. It is not intended as nor should be relied upon as medical advice. Rather, it is designed to support, not replace, the relationship that exists between a pet owner/site visitor and his/her local veterinarian(s). Before you use any of the information provided in the site, you should seek the advice of a qualified professional.
In the spirit of full disclosure, we wanted to let you know that we proudly support this website through advertising and affiliate marketing. In other words, when you click on a link that takes you outside of this website, we often earn a small commission. These small commissions allow us to keep the site up and running and to continue offering it completely free of charge to you. Rest assured that all content, recommendations and advice are created before, and are independent of, any sponsorship or affiliate relationship.
Click here
for more info.