Swollen Red Around Dog Eye
by Laura H
(Missouri)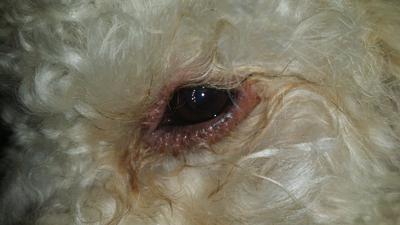 I have 2 girls...bichon/poodle mixes, they are 2.5 yrs old. One of them, Dallas, woke up yesterday morning with his horrible redness around her eye. Other than the obvious irritating feeling she is acting completely normal....she just tries to bury her face in a blanket and puts her paws over her eyes.


I looked online right away and found some info, so I've been using cotton balls and saline to wipe her eyes a few times a day. I've also been adding Omega, Vitamin C, alfalfa and Shaklee's Nutriferon to her food.
I will tell you the history about her diet but since yesterday she is ONLY eating Primal raw freeze dried food. I did give her a benadryl to help her relax....and I have antibiotics from her last vet visit a couple months ago and I gave her one yesterday and one this morning. This morning, it doesn't look any worse, but it doesn't look better either. She slept perfect last night.
Okay so a little history...we got the girls when they were 10 weeks old, and they had been on Primal food exclusively. No table scraps other than some raw carrots here and here. I was adamant that their diet stay very clean! Then last November we had a job loss and had to restructure our budget, so we've been staying with my mom, and changed them to the NOW brand of food she was feeding her dog.
I also never gave them tap water(my mom does), use all non-toxic cleaning and personal care products(my mom has irritating fragrances everywhere) so my home was really "clean"! Now, they've been in a completely different atmosphere, including a different climate because we moved from New Mexico to Missouri. For the 2 years before we came here,
I never had one issues with either dog. Both very healthy.
They have tons of energy, very playful. A month after we got here, Dallas developed a cough that my mom said sounded like kennel cough. I was out of town...she took her to the vet and of course put her on antibitiocs and hydrocodone? I had no control over this since I was gone...but apparently her cough was gone in 2 days and my mom stopped the meds. Had it been me, I would have tried some natural methods first.
Then my other dog developed this sore on her back that turned into this big scab (she was scratching it). Eventually it healed but again, just letting you know I've had no issues until all these changes. As far as the food they were eating, I didn't any allergic reactions or anything.....but something is obviously not right with them. We are moving in a week to our own place so they will be back in a clean environment soon. I'm also considering changing to home made food since the Primal will be too expensive for me to continue full time.
As far as her eye, I don't mind taking her into the vet...but from everything I've read I feel like they are just going to say keep doing the saline and continue the antibiotics. I'd like to avoid paying for that if possible! I'm attaching photos, I couldn't get a good one of the other eye that isn't as bad....so this one you're looking at is the bad one and the other one looks the same just not as severe. Thank you for your help!
(also, I am very open to nutritional suggestions...I have a large selection of supplements I can give her along with herbs!)
Want to ask our veterinarians a question but haven't subscribed to My Online Vet? Click here to learn how or click here to go back to the Ask a Vet Online Library of questions.
Want monthly "News You Can Use" and important Organic Pet Digest new content updates? Click here to sign up for our FREE Dog Care Monthly newsletter.
Do you believe in holistic pet care? If so, please tell your friends about us with a Facebook like, Google +1 or via Twitter, Pinterest, email or good old fashioned word of mouth. Thank you for supporting our efforts!
For additional research, search for your topic...
Also see...
Disclaimers: The information contained in this web site is provided for general informational purposes only. It is not intended as nor should be relied upon as medical advice. Rather, it is designed to support, not replace, the relationship that exists between a pet owner/site visitor and his/her local veterinarian(s). Before you use any of the information provided in the site, you should seek the advice of a qualified professional.
In the spirit of full disclosure, we wanted to let you know that we proudly support this website through advertising and affiliate marketing. In other words, when you click on a link that takes you outside of this website, we often earn a small commission. These small commissions allow us to keep the site up and running and to continue offering it completely free of charge to you. Rest assured that all content, recommendations and advice are created before, and are independent of, any sponsorship or affiliate relationship.
Click here
for more info.