Summer dog skin rash and severe itching
by Rob
(Canton, GA)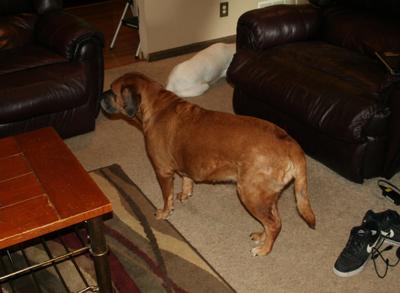 About 3 years ago, my dog got a rash as the weather began to increase into the 90's, and the itching persisted for the entire summer. Last year was not as bad, but still noticeable, and this year is as bad as the first if not worse.
She is a mixed breed dog that weighs about 78 pounds, and she's about 6 years old. Her diet consists of Pedigree adult complete nutrition dry dog food.
She does not take any regular medication and is not on any flea treatments. However, we have experimented with the itchy skin sprays from Pet Smart including a hydro cortisone spray that seems to have no effect. The hydro cortisone shampoo does seem to ease the itching slightly for a couple of days.
We also gave her a Benedryl the last two nights and that seems to help a little for a couple of hours, but I am hesitant to give this to her.
As you can see in the pics, her tail has some puss on it where she has been scratching, so I am not sure if that is part of the problem or a result of her scratching. I have not seen puss before.
The rash and all itching seems to be contained to her hind area, including the inside of her legs, her tail, and her back legs inside and out. She has lost a little fur on her tail and sides from scratching and gnawing at the sites.
Want to ask our veterinarians a

question but haven't subscribed to My Online Vet? Click here to learn how or click here to go back to the Ask a Vet Online Library of questions.
Want monthly "News You Can Use" and important Organic Pet Digest new content updates? Click here to sign up for our FREE Dog Care Monthly newsletter.
Do you believe in holistic pet care? If so, please tell your friends about us with a Facebook like, Google +1 or via Twitter, Pinterest, email or good old fashioned word of mouth. Thank you for supporting our efforts!
For additional research, search for your topic...
Also see...