Stye-like Growth on Dog's Lower Eyelid
by Steven Lentini
(Phoenix, Arizona, USA)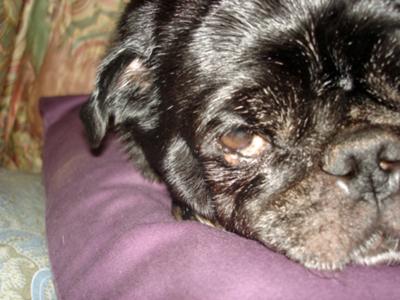 My 9 year old male pug has what appears to be a stye-like growth on his lower eyelid. There is no redness or discharge, however it appears to bother him a great deal.
He squints his eye, rubs it on object (like sheets, clothes, etc) and tries to scratch it. Also, he has a decreased appetite and is less active than normal.
I have been cleaning the eye out with water, apply warm compresses and a tiny amount of antibiotic ointment to the eyelid at least 2 to 3 times daily. I noticed this about a week ago, at first it seemed to go down a little with the warm compresses but now it is not getting any smaller. It is also not getting any larger but it is bothering him more.
He has not had any health problems before.
Want to ask our veterinarians a

question but haven't subscribed to My Online Vet? Click here to learn how or click here to go back to the Ask a Vet Online Library of questions.
Want monthly "News You Can Use" and important Organic Pet Digest new content updates? Click here to sign up for our FREE Dog Care Monthly newsletter.
Do you believe in holistic pet care? If so, please tell your friends about us with a Facebook like, Google +1 or via Twitter, Pinterest, email or good old fashioned word of mouth. Thank you for supporting our efforts!
For additional research, search for your topic...
Also see...