Sores on Dog's Paw Pads
by Duncan W.
(Lismore, NSW, Australia)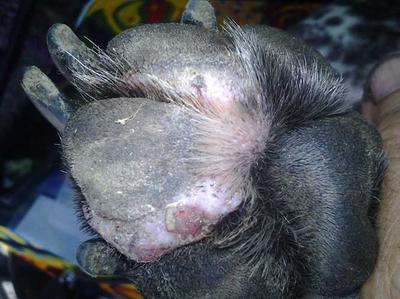 Ecko started developing these lesions on the edges of his paw pads about a week ago and they seem to be spreading. He now has them on every paw. The skin looks kind of raw and to begin with was a bit pussy.


First we made up a tea from fresh tumeric and washed them with that. It cleared up the puss but did not prevent the condition from spreading.
We also used medical honey wrapped in comfrey leaves which we kept on with a sock while we slept... hard to keep a sock on him during the day as we live outdoors and he is usually a very active dog.
Then we tried some peroxide of hydrogen, but stopped after one application because we thought it might make his paws more raw.
Then we crushed up some cloves of garlic and applied that overnight, but it still seems to be spreading.
On the last picture you can see how it has spread to the back of his hind leg paw pad.
Last night we resorted to putting some betadine ointment on it.
We are on the verge of taking him to the vet, at least to get a diagnosis of the condition because at the moment we don't know what else to try as we don't know what it is, but suspect it could be fungal.
Summer has just come on here in Australia... it's been very hot and humid so we go down to the creek often. We think it's possible that he may have picked something up in the mud around there.
Our other dog hasn't shown any of the same symptoms, fingers crossed he won't.
We feed our dogs mainly raw food, which consists of chicken and beef from the butcher, mixed with carrots, apples and whatever other veggies need using up. They do sometimes get rice, bread and occasionally pies (surplus from the soup kitchen). We often add an egg, garlic, olive oil and apple cider vinegar to their food, but not all the time.
Lately we tried giving them herbs to worm them, worm wood, black walnut, chili powder, clove powder and have tried giving them food grade diatomaceous earth, but in the end resorted to dosing them with Drontal all-wormer, and Comfortis for their fleas. We did this almost two weeks ago.
Want to ask our veterinarians a question but haven't subscribed to My Online Vet? Click here to learn how or click here to go back to the Ask a Vet Online Library of questions.
Want monthly "News You Can Use" and important Organic Pet Digest new content updates? Click here to sign up for our FREE Dog Care Monthly newsletter.
Do you believe in holistic pet care? If so, please tell your friends about us with a Facebook like, Google +1 or via Twitter, Pinterest, email or good old fashioned word of mouth. Thank you for supporting our efforts!
For additional research, search for your topic...
Also see...
Disclaimers: The information contained in this web site is provided for general informational purposes only. It is not intended as nor should be relied upon as medical advice. Rather, it is designed to support, not replace, the relationship that exists between a pet owner/site visitor and his/her local veterinarian(s). Before you use any of the information provided in the site, you should seek the advice of a qualified professional.
In the spirit of full disclosure, we wanted to let you know that we proudly support this website through advertising and affiliate marketing. In other words, when you click on a link that takes you outside of this website, we often earn a small commission. These small commissions allow us to keep the site up and running and to continue offering it completely free of charge to you. Rest assured that all content, recommendations and advice are created before, and are independent of, any sponsorship or affiliate relationship.
Click here
for more info.