Sore / Growth on Dog's Nose Near Rattlesnake Bite
by Heather
(Utah)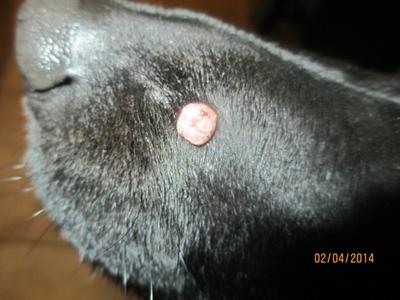 growth on nose near snake bite - photo #1
Our eight year old female German short hair/Lab mix dog was bitten by a baby rattlesnake this past June. After a long difficult recovery she seems to be back to her sweet, happy, active self.


Recently (maybe a month or two ago) she developed a spot on her nose the size of a dull pencil lead we believe near the most prominent fang bite. It doesn't seem to bother her and her demeanor hasn't changed, but after about a month the sore didn't seem to worsen or improve so I started putting neosporine on it for about a week with no improvement.
I then put a mixture of distilled water and grapefruit seed extract on it for a few days which seemed to dry it out but make it larger. I then dabbed tea tree oil (which I have since researched is toxic to dogs so not using it again)on it only a few times one day which turned it black so I took her to the vet the following day.
He glanced at the black spot, told me he didn't think it was related to the snake bite and told me he would charge me $200 more dollars to check for cancer. He didn't think it was anything to worry about because cancer wouldn't have reacted as it did to my treatments. He told me to just to keep neosporine on it and it should go away.
This was about three weeks ago. I have not used neosporine and only been treating it with the grapefruit seed extract a few times a day. Unfortunately, it is now the size of an eraser (which is worrying me) so I'm going to stop that treatment and wondering if castor oil, vitamin E and Vitamin C would help if it is a mole.
It is a pale pink color, round, and cauliflower looking.
Do you think from my description and pictures it is nothing to worry about as the vet dismissed or should I be more concerned it could be a mast cell or something that is more serious?
I have already looked into homeopathic vets and only found one in our state 1 1/2 hours away so that may not be an option. Thank you for your opinion on what the growth could be.
Want to ask our veterinarians a question but haven't subscribed to My Online Vet? Click here to learn how or click here to go back to the Ask a Vet Online Library of questions.
Want monthly "News You Can Use" and important Organic Pet Digest new content updates? Click here to sign up for our FREE Dog Care Monthly newsletter.
Do you believe in holistic pet care? If so, please tell your friends about us with a Facebook like, Google +1 or via Twitter, Pinterest, email or good old fashioned word of mouth. Thank you for supporting our efforts!
For additional research, search for your topic...
Also see...
Disclaimers: The information contained in this web site is provided for general informational purposes only. It is not intended as nor should be relied upon as medical advice. Rather, it is designed to support, not replace, the relationship that exists between a pet owner/site visitor and his/her local veterinarian(s). Before you use any of the information provided in the site, you should seek the advice of a qualified professional.
In the spirit of full disclosure, we wanted to let you know that we proudly support this website through advertising and affiliate marketing. In other words, when you click on a link that takes you outside of this website, we often earn a small commission. These small commissions allow us to keep the site up and running and to continue offering it completely free of charge to you. Rest assured that all content, recommendations and advice are created before, and are independent of, any sponsorship or affiliate relationship.
Click here
for more info.