Severe dog diarrhea after taking arthritis medicine (Previcox)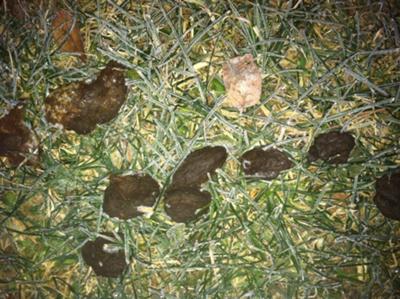 My dog has severe diarrhea which I think is the result of his arthritis medicine (Previcox).


Here's the background: My dog has been diagnosed by my vet as having arthritis in his hind legs. He has been slowly over the last year been getting worse with getting up from a lying down position to stand.
The vet prescribed Previcox at 227 mg for him to take in order to relieve his symptoms. I gave him one pill approximately 13 days ago after he was having difficulty standing in the morning.
He woke up one morning and fell every time he tried to stand and was falling over as he was trying to walk. After 12 hrs he was able to walk and seemed fine.
Four days later he had the same problem walking/standing so I gave him another previcox. Again 12 hrs later he was walking fine but then had diarrhea.
The diarrhea has been going for about a week now. It has been very runny and dark with mucus and blood in it. It has progressively gotten worse. It started where he had to go every 4-5hrs. Now he has to go every 2 hours.
I have tried to withhold food for 24 hrs and give him Pepto Bismol and pumpkin but I have not seen much improvement. I am only feeding him plain rice and ground cooked turkey now 2 times per day and he has a full bowl of water all day.
I researched alternative treatments and yesterday I tried activated charcoal 500 mg one in am,
1 in the pm. The stool seems to be hardening up some as you can see in the pictures but it still has mucus and traces of blood. I have been up every two hours during the night for a week to let him out to eliminate. I'm not getting sleep nor is he or my 5 month old puppy.
By the way, my dog's name is Socrates. He is a 13yr old neutered, male Australian Shepherd approximately 78 pounds.
I have a bottle of Thorn Research Gastriplex dog supplement coming from pureformulas today or tomorrow in hopes that it helps to repair some of the damage from the diarrhea.
I also have Life Span Dog Arthritis Therapy coming from Evolution Pets to use in place of the prescription anti inflammatory to help relieve his arthritis symptoms.
I don't want to take him to a regular vet because the prescriptions will only cause more problems and he's at the age where I don't want to put him through test after test and further stress him. I've had a bad experience with my other senior dog 2 years ago where the vets put him through all these tests and were not able to help just stressed him out and he soon after passed away.
I'd just like to stop the diarrhea and make him as comfortable as I can for as long as he's still with me. I'm assuming the drugs caused this and is digestive track has been severely bruised.
What can I do to stop the diarrhea and help him recover?
Want to ask our veterinarians a question but haven't subscribed to My Online Vet? Click here to learn how or click here to go back to the Ask a Vet Online Library of questions.
Want monthly "News You Can Use" and important Organic Pet Digest new content updates? Click here to sign up for our FREE Dog Care Monthly newsletter.
Do you believe in holistic pet care? If so, please tell your friends about us with a Facebook like, Google +1 or via Twitter, Pinterest, email or good old fashioned word of mouth. Thank you for supporting our efforts!
For additional research, search for your topic...
Also see...
Disclaimers: The information contained in this web site is provided for general informational purposes only. It is not intended as nor should be relied upon as medical advice. Rather, it is designed to support, not replace, the relationship that exists between a pet owner/site visitor and his/her local veterinarian(s). Before you use any of the information provided in the site, you should seek the advice of a qualified professional.
In the spirit of full disclosure, we wanted to let you know that we proudly support this website through advertising and affiliate marketing. In other words, when you click on a link that takes you outside of this website, we often earn a small commission. These small commissions allow us to keep the site up and running and to continue offering it completely free of charge to you. Rest assured that all content, recommendations and advice are created before, and are independent of, any sponsorship or affiliate relationship.
Click here
for more info.