Severe and Ongoing Demodectic Mange on Dog
by Shannon Jackson
(Clarksburg, WV USA)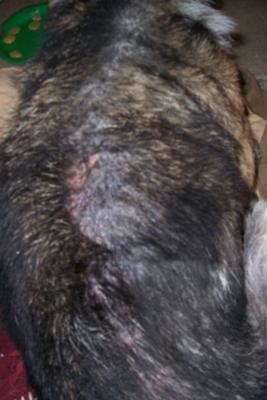 back
My dog Oreo has demodectic mange confirmed through several skin scrapings under a microscope by a conventional vet on December 30th.


Oreo is part beagle/part blue tick, male, age 6. He was given Cephalexin Cap 500 Mg 100# of which I gave him 2 x day for 14 days. He was also given Posatex Otic Suspension 15gm for ears being infected inside (recurring problem).
I also administered Tritop for the tips of his ears to heal the scabs apparently caused by the mites as well.
He is an outdoor dog, almost exclusively, except due to his mange we have been bringing him into the garage at night and sometimes during the day due to the cold temperatures here in West Virginia. He has always had skin issues for many years (dry, itchy, very pink/red when it becomes inflamed).
Our previous vet would give him a Depo Medrol 40 mg/mi 5 mi injection. This would solve the itching for around a month and then back to same issue again.
He currently eats Purina Dog Food, takes a monthly heartworm pill, Interceptor, and from around March through October is given Frontline Plus for flea control. Do you think the Frontline is contributing to the skin problems?
And in regards to the heartworm pills, do you suggest I space this out from every 30 to 45 days?
He was due for his vaccines, but I held off thinking that his immune system is already suppressed enough, no more taxing on it. Could this contribute to it? Do you know anything that can be taken to rid the body of toxins from vaccines?
But this is the first time I've experienced his skin in this bad of shape. Started noticing it right after it got really cold in November. Saw that he was loosing hair in patches.
The Tritop, after me using it on him for 2 weeks, did finally cause the scabs on the tips of his ears to fall off. But as soon as I ran out of the Tritop, they returned
He is in such bad shape and I feel so helpless. I have read your articles about
Demodectic Mange and how to cure it through diet
. I have been supplementing his dog food with homemade cooked chicken and rice, throwing in some occasional fruits and vegetables.
I read on another holistic site where they suggested a raw food diet? What would this entail?
I can't seem to convince my husband that buying a $50 high quality dog food will prevent these types of problems along with large vet bills. What would be your top two choices of dog foods out there for a dog that has skin issues already?
I guess I am also skeptical that changing dog food alone will cure him. I tried to figure out exactly what to feed him from reading articles on this website and got very overwhelmed with the amount of supplements to ensure he gets a balanced diet. Again, my husband is not all about spending a lot of money on a dog, so I need to do things as economically as possible.
I've already saved 2 dozen
eggshells to do the calcium supplement if needed. Could this benefit him? If so, how much do I give him daily?
How do you get an animal to eat raw or homemade food that he does not like the taste of? Just know he does not normally eat vegetables that I present to him.
Are you familiar with Silver Shield (Colloidal Silver) through Nature's Sunshine? We use that for our human illnesses and so I have tried it sporadically on Oreo, but didn't know if it would heal the scabs and open wounds or not.
My friend also gave me something naturally that is specifically for dogs' hot spots. I have been spraying this 1 to 2 x a day on his ear tips, top of his head, around his nose, and scabs on his back. So far, I've not noticed any improvement.
He is to the point now that he just tries to run from me when I try to help him. It seems like each day there is a new area on him that is bleeding.
So to give you an overview on where all the mange has attacked, it is on his back, sides, top of his head, cheeks, right above nose, tips of ears, neck, and legs (neck and legs do not have the scabs like the other areas do). The only thing that has seemed to work well so far is that last weekend I put him in a tub and bathed him with a natural shampoo that has Tea Tree Oil and then finished by applying a mixture of peroxide and borax. This does not get rinsed off. This has severly cut back on the itching. Would you recommend to continue with this and if so how many times a week or month should I be bathing him?
He has cedar chips for lining in his outdoor dog house. We replaced this in the fall before the mange. Do you suggest changing that out? Or at least spraying it with something?
Something he has been doing within the past year that I had not seen prior (but he was doing this before the mange) is many times when he sits, he holds one paw up. He got the tips of his feet run over a few months back, but the vet did not think anything was broken. He does not limp when walking normally. Vet thought maybe arthritis is setting in. What do you think? If so, what natural things do you suggest to help with this?
Up until the time that I bathed him last week, after spraying him and petting him, I would itch. Not to the point that it would cause redness on me, but I could just feel like the microscopic mites on me. Is that normal?
I know I have asked you a ton of questions. I'm so sorry, I've just researched this so much, but am very lost on what specifically I need to do for my dog. Thank you so much for your time.
God Bless, and thank you for this service for I feel I've exhausted what I know how to do.
Shannon Jackson
Want to ask our veterinarians a question but haven't subscribed to My Online Vet? Click here to learn how or click here to go back to the Ask a Vet Online Library of questions.
Want monthly "News You Can Use" and important Organic Pet Digest new content updates? Click here to sign up for our FREE Dog Care Monthly newsletter.
Do you believe in holistic pet care? If so, please tell your friends about us with a Facebook like, Google +1 or via Twitter, Pinterest, email or good old fashioned word of mouth. Thank you for supporting our efforts!
For additional research, search for your topic...
Also see...
Disclaimers: The information contained in this web site is provided for general informational purposes only. It is not intended as nor should be relied upon as medical advice. Rather, it is designed to support, not replace, the relationship that exists between a pet owner/site visitor and his/her local veterinarian(s). Before you use any of the information provided in the site, you should seek the advice of a qualified professional.
In the spirit of full disclosure, we wanted to let you know that we proudly support this website through advertising and affiliate marketing. In other words, when you click on a link that takes you outside of this website, we often earn a small commission. These small commissions allow us to keep the site up and running and to continue offering it completely free of charge to you. Rest assured that all content, recommendations and advice are created before, and are independent of, any sponsorship or affiliate relationship.
Click here
for more info.