Scaly Skin Growth on Dog's Elbow
by Emily
(Indiana, PA, USA)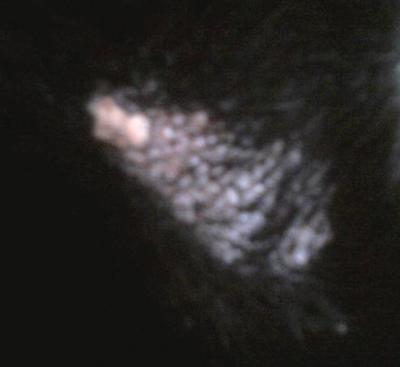 Scaly Growth on Left Elbow
A few weeks ago, while brushing Max, I found something 'stuck' in his fur on his left elbow. He had just visted the groomer a few days before, so I found this very odd. It looked like dirty chewing gum, roughly the size of a quarter.


I tried to tug on it a bit to remove it from his fur, with no luck. Upon further inspection, I realized it wasn't gum, it was his skin! I panicked for a moment, and then checked the rest of his body for any other crazy patches, finding he had a smaller patch on his right elbow, about the size of a dime.
Max, an 8 year old Lab/Rottweiler mix, has always been in good health since I adopted him as a puppy. He's the correct weight. He's never had any pressing health issues other than an allergic reaction to fleas several years ago.
I treat him with Frontline during the warmer months, and he is up to date on his vaccines. Being that he is older, Max gets a multi-vitamin, a dog aspirin, and a glucosamine tablet daily. I've noticed this has improved his mobility; he went from acting stiff and sore to bouncing around like a puppy again.
I've done numerous internet searches trying to find out exactly what it is, but found nothing. The skin protrudes out through the hair, much like a skin tag would, but is flat so it's a flap of skin instead of a ball. It's very scaly, and gray, with a very reptilian feel and appearance.
At first I thought it could be some type of wart, but all the pictures I've seen of warts on dogs are round and pink, not flat and gray. I tried to take pictures, but they turned out blurry.
I've been keeping an eye on both of his elbows, and there seems to be no changes, good or bad. However, I've noticed Max does lick and chew at them occasionally so I know they must be irritating him.
I'm very concerned. My mom suggested that maybe it's a callous caused by friction when he lays on the carpet. I considered this idea, but noticed that the growth is higher up on his elbow and doesn't come in contact with the carpet when he's laying on the floor - it's at least a good inch above the point of contact.
I'd like to know what this growth is and how to treat it, if I can treat it myself, or if I should make an appointment with my vet.
Want to ask our veterinarians a question but haven't subscribed to My Online Vet? Click here to learn how or click here to go back to the Ask a Vet Online Library of questions.
Want monthly "News You Can Use" and important Organic Pet Digest new content updates? Click here to sign up for our FREE Dog Care Monthly newsletter.
Do you believe in holistic pet care? If so, please tell your friends about us with a Facebook like, Google +1 or via Twitter, Pinterest, email or good old fashioned word of mouth. Thank you for supporting our efforts!
For additional research, search for your topic...
Also see...
Disclaimers: The information contained in this web site is provided for general informational purposes only. It is not intended as nor should be relied upon as medical advice. Rather, it is designed to support, not replace, the relationship that exists between a pet owner/site visitor and his/her local veterinarian(s). Before you use any of the information provided in the site, you should seek the advice of a qualified professional.
In the spirit of full disclosure, we wanted to let you know that we proudly support this website through advertising and affiliate marketing. In other words, when you click on a link that takes you outside of this website, we often earn a small commission. These small commissions allow us to keep the site up and running and to continue offering it completely free of charge to you. Rest assured that all content, recommendations and advice are created before, and are independent of, any sponsorship or affiliate relationship.
Click here
for more info.