Sack-like growth hanging from dog's face
by Karen
(Springfield, MO)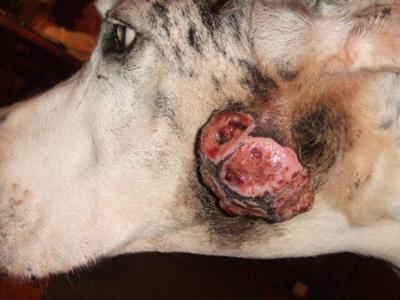 McKenzie's facial growth
The first sign of my dog's tumor was 9 months ago. It is now almost sack-like, hanging from her face. Current size is approx 3 inches wide by 2 inches.


At first it was slow growing. Within about 3 months, it was about half the size of today (see photo). It grew quickly after 3 months but the rate of growth seems to have stabilized over the past 30 days.
For the past 4-5 months, it has been continually wet and oozing either an odorous liquid or droplets of blood. She does not seem to be bothered by the growth, nor in any pain. She will occasionally rub her face on her sheet but still no signs of frustration or pain of any kind.
A Vet examined the tumor and determined that it was not likely cancerous and said that it would be an easy removal but did not recommend surgery due to her age. I clean it continually with hydrogen peroxide adding gauze pads during times of heavier bleeding, holding the pads in place with an expandable tubelike bandage.
During the early months of the growth, I did apply neosporin but with no noticable results. I am reading online about a product called Neoplasene. Wondering if this product may reduce the size of the tumor or if you may be aware of any other product that will help dry it up, reduce its size, etc.
McKenzie is an otherwise healthy 13 year old Great Dane female weighing about 130 lbs.
Any information, suggestions, or ideas will be so appreciated.
Want to ask our veterinarians a question but haven't subscribed to My Online Vet? Click here to learn how or click here to go back to the Ask a Vet Online Library of questions.
Want monthly "News You Can Use" and important Organic Pet Digest new content updates? Click here to sign up for our FREE Dog Care Monthly newsletter.
Do you believe in holistic pet care? If so, please tell your friends about us with a Facebook like, Google +1 or via Twitter, Pinterest, email or good old fashioned word of mouth. Thank you for supporting our efforts!
For additional research, search for your topic...
Also see...
Disclaimers: The information contained in this web site is provided for general informational purposes only. It is not intended as nor should be relied upon as medical advice. Rather, it is designed to support, not replace, the relationship that exists between a pet owner/site visitor and his/her local veterinarian(s). Before you use any of the information provided in the site, you should seek the advice of a qualified professional.
In the spirit of full disclosure, we wanted to let you know that we proudly support this website through advertising and affiliate marketing. In other words, when you click on a link that takes you outside of this website, we often earn a small commission. These small commissions allow us to keep the site up and running and to continue offering it completely free of charge to you. Rest assured that all content, recommendations and advice are created before, and are independent of, any sponsorship or affiliate relationship.
Click here
for more info.