Reddish skin on Groin & Bumps on other Areas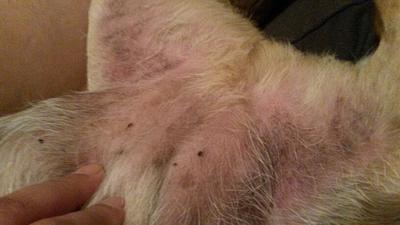 Dog's Groin - Reddish/Pinkish Skin, Smooth Texture, Feels Thin
The skin on my dog's groin area is reddish/pinkish in color, has a smooth texture and feels thin. I have not really seen him licking the area, but I have seen him licking his feet.


Some things I have tried that help but do not permanently remove the issue:
- GNC shampoo for allergies but will go back in less than a week.
- Last night I tried a human cream for itchy skin and this morning it looked better.
- I also have given him Benadryl once and it kind of cleared but I do not want to give him that everyday.
His diet now consists of Natural Balance L.I.D. Limited Ingredient Diets Sweet Potato & Fish Dog Food, he just started this week plus the GNC salmon oil that I add daily in the morning (1 tbsp). Before the Natural Balance, he had the Solid Gold Sun Dancer Holistic Dog Food with Chicken and Potatoes. Every once in a while I give him plain fat free yogurt.
His weight is 21 lbs, dachshund/corgie mix. He is around 8-9 years old.
His personality has not really changed except for the excessive licking of beddings, etc and sometimes his feet.
Another thing that I have noticed on his skin is mostly all over but not too many (none on his face, mostly on his back or sides) is he will have a skin area that is raised and is almost a scab. When I try to get this off, hair comes off and underneath is a wound that does not bleed but gives off a fishy smell.
Above are a few pics of this plus the groin area.
He did have some fleas last year around the third quarter but those have disappeared.
I have had him checked with his regular vet and they could not find anything even did a test. The only thing they did was give him medicated shampoo. Also brought him to the vets at the humane society and nothing either.
Want to ask our veterinarians a question but haven't subscribed to My Online Vet? Click here to learn how or click here to go back to the Ask a Vet Online Library of questions.
Want monthly "News You Can Use" and important Organic Pet Digest new content updates? Click here to sign up for our FREE Dog Care Monthly newsletter.
Do you believe in holistic pet care? If so, please tell your friends about us with a Facebook like, Google +1 or via Twitter, Pinterest, email or good old fashioned word of mouth. Thank you for supporting our efforts!
For additional research, search for your topic...
Also see...
Disclaimers: The information contained in this web site is provided for general informational purposes only. It is not intended as nor should be relied upon as medical advice. Rather, it is designed to support, not replace, the relationship that exists between a pet owner/site visitor and his/her local veterinarian(s). Before you use any of the information provided in the site, you should seek the advice of a qualified professional.
In the spirit of full disclosure, we wanted to let you know that we proudly support this website through advertising and affiliate marketing. In other words, when you click on a link that takes you outside of this website, we often earn a small commission. These small commissions allow us to keep the site up and running and to continue offering it completely free of charge to you. Rest assured that all content, recommendations and advice are created before, and are independent of, any sponsorship or affiliate relationship.
Click here
for more info.