Red, swollen eye with worsening discharge in dog
by Jennifer Halverson Dorsey
(New York City, NY, USA)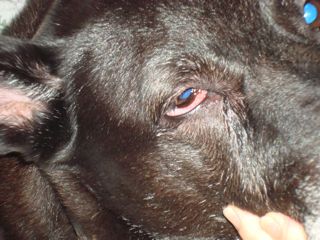 Jade's eye 1
Our dog has a red, swollen eye with discharge that has worsened since yesterday. It is only her right eye. Her left eyes appears wholly unaffected.


Our dog is an 8.5 year old, female, Doberman/Black German Shepard mix.
Today is Sunday about 1:30pm our time. Yesterday morning, Saturday at about 9:30am our time, I noticed what I thought was a particularly stringy "eye booger". I even teased her about it as I removed it.
The area under her eye may have been a little damp, but I attributed it to morning eye boogers...didn't seem like a big deal.
However, last night it appeared irritated (red, slightly swollen, watery discharge draining down the side of her face) and she was pawing at it a bit. She let me look in it with a desk lamp over her (doesn't seem to be light sensitive) and I pulled back her eyelids (carefully). I didn't see any foreign bodies, just redness and a tiny bit of whitish "gunk".
At this time I thought she may have just gotten something in it. I put 2 drops of "Similasan Dry Eye Relief" in her eye (a homeopathic eye drop that I have). She did not have much of a reaction at all to the eye drops -- that is, they did not seem to sting or hurt the eye. If anything, she seemed to have
some relief.
In fact, she seemed eager to cooperate for another drop later (I only mention this because she doesn't generally act so cooperative with grooming, ear drops or the like)...so I interpreted that there must have been some relief...or at the very least, no pain associated with them.
I also put a warm wash cloth over her eye and she seemed to like that.
So, this morning (Sunday), her eye is more red, more swollen and with more discharge. The discharge running down her face is not completely clear anymore...it is more whitish and maybe has a little bit of a pale yellow tinge to it. She wants to scratch it sometimes...not constantly...and settles down quite a bit after having a warm wash cloth compressed on it. She sometimes rubs it on a pillow or the couch...but stops after a warm compress. I would read this as some relief from the compress.
Also, her appetite and spirits are good otherwise. She went to the park and acted normal...no aversion to light or activity. And there's been no change in her diet or routine, no close contact with anyone other than us (neither of us have any sign of infection) or other animals recently.
Again, only her right eye has been affected... her left eye appears normal.
Is this pink eye or something else? What can we do for it?
Want to ask our veterinarians a question but haven't subscribed to My Online Vet? Click here to learn how or click here to go back to the Ask a Vet Online Library of questions.
Want monthly "News You Can Use" and important Organic Pet Digest new content updates? Click here to sign up for our FREE Dog Care Monthly newsletter.
Do you believe in holistic pet care? If so, please tell your friends about us with a Facebook like, Google +1 or via Twitter, Pinterest, email or good old fashioned word of mouth. Thank you for supporting our efforts!
For additional research, search for your topic...
Also see...
Disclaimers: The information contained in this web site is provided for general informational purposes only. It is not intended as nor should be relied upon as medical advice. Rather, it is designed to support, not replace, the relationship that exists between a pet owner/site visitor and his/her local veterinarian(s). Before you use any of the information provided in the site, you should seek the advice of a qualified professional.
In the spirit of full disclosure, we wanted to let you know that we proudly support this website through advertising and affiliate marketing. In other words, when you click on a link that takes you outside of this website, we often earn a small commission. These small commissions allow us to keep the site up and running and to continue offering it completely free of charge to you. Rest assured that all content, recommendations and advice are created before, and are independent of, any sponsorship or affiliate relationship.
Click here
for more info.