Red Scaly Oily Patches on Overweight Dog's Back
by Carol M.
(Kapuskasing, Ontario, Canada)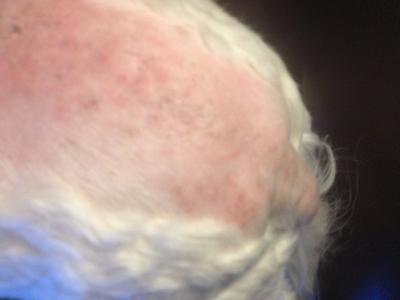 I have a 10 year old male Bishon Frise called Boomer, who has red bumps that are oily and scaly all over his back. This originally started on the base of his tail but just over a month ago I noticed it had spread to his back.


I shaved the fur off the area and thoroughly washed it with a disinfectant that was diluted in warm water. I applied Aveeno lotion that evening. I started to wash the area every day and apply green tea three times daily for about a week.
The redness has faded a bit but I noticed black spots that looked like blackhead,s but they are soft and greasy stuck to the skin and in his fur. I started to apply corn starch to the area after washing him to absorb the oil, and that seems to help a little with the oil but not the black spots.
I adopted him in September of 2013 so I don't know his medical background. I have not taken him for any vaccinations since I got him, but I did take him in October of 2013 for an ear infection. Apparently he had problems with frequent ear problems.
Another thing he does is chew and lick his feet frequently. I put boots on him in the winter for his walks and keep his claws trimmed but that doesn't stop the problem. He is a very social dog and has lots of energy on his walks, but sleeps a lot any other time.
He is slightly overweight since the weather has been cold this winter and I have not been able to walk him every day. He eats just over a cup of food twice a day and has 3 treats at night when he goes out to relieve himself and at bedtime.
He has about 2 bowel movements a day. When he is going he circles and seems to have trouble passing the stool.
He drinks about 3 cups of water a day plus the water I put in his food. I was feeding him Purina Beneful Healthy weight up until last week when I changed him to Purina Beneful Healthy Radiance for a healthy coat.
I thought that he may have a food allergy so I am trying a different blend. I would like to know what I can do to get rid of his skin problem and help him get back to a healthy weight. Right now he weighs around 27 pounds.
Want to ask our veterinarians a question but haven't subscribed to My Online Vet? Click here to learn how or click here to go back to the Ask a Vet Online Library of questions.
Want monthly "News You Can Use" and important Organic Pet Digest new content updates? Click here to sign up for our FREE Dog Care Monthly newsletter.
Do you believe in holistic pet care? If so, please tell your friends about us with a Facebook like, Google +1 or via Twitter, Pinterest, email or good old fashioned word of mouth. Thank you for supporting our efforts!
For additional research, search for your topic...
Also see...
Disclaimers: The information contained in this web site is provided for general informational purposes only. It is not intended as nor should be relied upon as medical advice. Rather, it is designed to support, not replace, the relationship that exists between a pet owner/site visitor and his/her local veterinarian(s). Before you use any of the information provided in the site, you should seek the advice of a qualified professional.
In the spirit of full disclosure, we wanted to let you know that we proudly support this website through advertising and affiliate marketing. In other words, when you click on a link that takes you outside of this website, we often earn a small commission. These small commissions allow us to keep the site up and running and to continue offering it completely free of charge to you. Rest assured that all content, recommendations and advice are created before, and are independent of, any sponsorship or affiliate relationship.
Click here
for more info.