Red Raw Patches of Hairless Skin on Dog
by Jeremy
(Williston, ND)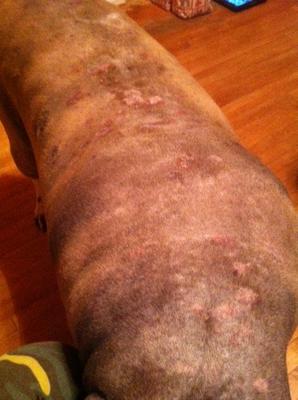 Whole Back
About three weeks ago we started noticing that our one and a half year old Nehi St. Bernard, Tommy, had a bunch of dry skin lumps all over his back. When we looked closer the dry skin was coming off along with the hair leaving red swollen areas that eventually dry up.


The spots are concentrated on his back with a few smaller spots in other areas such as one on his neck and one under an armpit. His face has also been affected. We have also noticed the inside of ears are dry and red as well.
We recently changed dog foods from Iams to 4 Health chicken and rice formula. We made the switch slowly so as not to affect our pup as bad.
He has never had any health problems in the past. We were thinking a possible allergic reaction so we switched from the chicken and rice formula to the salmon and potato formula of the same brand. There has not been a great deal of difference though we only went to the salmon a few days ago
Tommy is an indoor pup only really going out to eliminate and exercise, otherwise he is quite spoiled. We have ruled out fleas or mites at this point as we have three other pets, our Chihuahua Gracie, cat Peaches and Budgie Buddy, none of whom are suffering from these spots.
Tommy is still energetic and his demeanor has not changed much other than he seems to want a bit more attention than normal. I hope this provides enough details to at least give us somewhat of an idea of what our poor pup is dealing with.
Thank you for your time.
Want to ask our veterinarians a question but haven't subscribed to My Online Vet? Click here to learn how or click here to go back to the Ask a Vet Online Library of questions.
Want monthly "News You Can Use" and important Organic Pet Digest new content updates? Click here to sign up for our FREE Dog Care Monthly newsletter.
Do you believe in holistic pet care? If so, please tell your friends about us with a Facebook like, Google +1 or via Twitter, Pinterest, email or good old fashioned word of mouth. Thank you for supporting our efforts!
For additional research, search for your topic...
Also see...
Disclaimers: The information contained in this web site is provided for general informational purposes only. It is not intended as nor should be relied upon as medical advice. Rather, it is designed to support, not replace, the relationship that exists between a pet owner/site visitor and his/her local veterinarian(s). Before you use any of the information provided in the site, you should seek the advice of a qualified professional.
In the spirit of full disclosure, we wanted to let you know that we proudly support this website through advertising and affiliate marketing. In other words, when you click on a link that takes you outside of this website, we often earn a small commission. These small commissions allow us to keep the site up and running and to continue offering it completely free of charge to you. Rest assured that all content, recommendations and advice are created before, and are independent of, any sponsorship or affiliate relationship.
Click here
for more info.