Red rash, itchy dog skin with "waxy" texture
by Alexis Taylor
(California)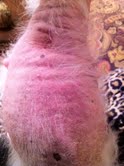 My 8 year old Maltese Rocky has been itching non stop for the past month or so. His hair was trimmed to better treat the skin issue, and his hair has not grown back.


He has a rash on his back, neck, stomach and back paws. It appears as tiny red dots the size of a pinhead when agitated. He sometimes scratches until his skin is raw.
His skin has a slightly wax texture on his back, and the back side of his ears has turned to a waxy, dark grey color.
We have begun bathing him in shampoo for sensitive skin and have changed his food to Iams organic kibble. Periodically we try and sooth his dry skin with lotion, but it doesn't provide any substantial relief.
In December of last year he was picked up from the local PetSmart where he was boarded while we were away over the holidays. A week or so later, his skin began to turn dry and slowly peel. The vet diagnosed him with a fungal problem and prescribed medical shampoo and some pills.
The issue eventually subsided until a month ago. When we tried to bathe him in the shampoo from the vet, his skin became irritated and we had to rinse it off immediately. We've used fresh aloe directly on his skin, olive oil, baby powder, everything to no avail. Hoping that the recent change in diet does the trick.
As a puppy, he had to have a hernia on his belly button surgically removed. Soon after he became lethargic and was rushed to the ER and put on an IV. Eventually he began eating regularly and developed in to a happy puppy.
Rocky's temperament is incredibly kind and loving. He rarely barks, has never bit anyone, and loves to be loved on. In this past month his personality has dwindled a little bit, as he is obviously uncomfortable.
Want to ask our veterinarians a question but haven't subscribed to My Online Vet? Click here to learn how or click here to go back to the Ask a Vet Online Library of questions.
Want monthly "News You Can Use" and important Organic Pet Digest new content updates? Click here to sign up for our FREE Dog Care Monthly newsletter.
Do you believe in holistic pet care? If so, please tell your friends about us with a Facebook like, Google +1 or via Twitter, Pinterest, email or good old fashioned word of mouth. Thank you for supporting our efforts!
For additional research, search for your topic...
Also see...
Disclaimers: The information contained in this web site is provided for general informational purposes only. It is not intended as nor should be relied upon as medical advice. Rather, it is designed to support, not replace, the relationship that exists between a pet owner/site visitor and his/her local veterinarian(s). Before you use any of the information provided in the site, you should seek the advice of a qualified professional.
In the spirit of full disclosure, we wanted to let you know that we proudly support this website through advertising and affiliate marketing. In other words, when you click on a link that takes you outside of this website, we often earn a small commission. These small commissions allow us to keep the site up and running and to continue offering it completely free of charge to you. Rest assured that all content, recommendations and advice are created before, and are independent of, any sponsorship or affiliate relationship.
Click here
for more info.