Red Lump on Dog's Armpit & Diarrhea
by Irene G.
(Ireland)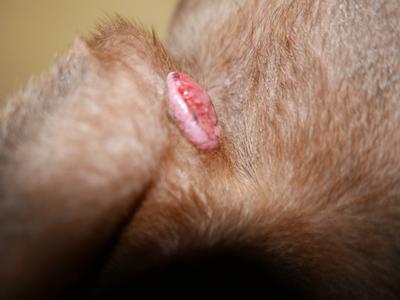 Lump under armpit of dog's left front leg. Has it now 6 months, growing slightly all the time. She licks it, but stops when told. It seems to bleed slightly from licking.


CoCo - cross, half terrier, quarter lab, quarter spaniel. 6.5 years old. She is a mischievous dog, playful, and utterly obedent. she has a big personality and a huge capacity for language - about 50 words! Loves comfort.
Good energy, good coat, happy dog, good appetite. Big runner, fast runner. Lump does not seem to effect her in any way. Vet looked at it when smaller 4 months ago, said it was not connected to tissue, and just to keep an eye on it. Overall she can be a nervous dog. Loud noises really upset her.
Thunder/Fireworks/Shouting. Becomes inward, shakes and takes cover in a corner. She was a surviving pup in a litter of 3. Taken from the mother at 5 weeks. She hates smaller bitches, and can attack if not supervised. She eats grass like a cow. She also eats wood bark. She loves dried seaweed. (we live by the sea). Can't stop her eating any of these. Sometimes I put a muzzle on her in the bad periods of health).
I use homeopathics all the time. CoCo for over 12 months, has also had chronic diarrhea. Tried vets, no avail.
I don't want surgery. Changed her diet many times, finally now she is on raw food diet of beef and boiled potatoes, (twice daily) for over 7 months. While it hasn't changed the symptoms of diarrhea overall, she now has diarrhea in bouts. (moreso with diarrhea than not).
Sometimes ok for a few days, sometimes ok in morning, back to diarrhea in afternoon. Anus was very swollen and red. She went through bouts of licking and scratching herself consistently all over.
I put her on a dose of Belladonna 30c, one tablet per day, (given two out of three days) and have kept this routine for about 3 months. Scratching stopped. Anus just sometimes red now. Diarrhea still happening. Consitency changes - sometimes yellow colour, pure water. Sometimes cloudy and whiteish.
I also have her on a dose (one tablet, once per week) of Aconite 30c. This seems to help her nerves. When I give it to her she reacts by trembling a lot, then goes into a deep sleep, and acts strong (not nervous/chilled) for a week or so.
Will really value your help and feedback. Thank you.
The attached photos do not represent her personality, as she hated the flash on the camera - and was nervous of it. She is usually a bubbly dog with her tail wagging - when she is not nervous!
Want to ask our veterinarians a question but haven't subscribed to My Online Vet? Click here to learn how or click here to go back to the Ask a Vet Online Library of questions.
Want monthly "News You Can Use" and important Organic Pet Digest new content updates? Click here to sign up for our FREE Dog Care Monthly newsletter.
Do you believe in holistic pet care? If so, please tell your friends about us with a Facebook like, Google +1 or via Twitter, Pinterest, email or good old fashioned word of mouth. Thank you for supporting our efforts!
For additional research, search for your topic...
Also see...
Disclaimers: The information contained in this web site is provided for general informational purposes only. It is not intended as nor should be relied upon as medical advice. Rather, it is designed to support, not replace, the relationship that exists between a pet owner/site visitor and his/her local veterinarian(s). Before you use any of the information provided in the site, you should seek the advice of a qualified professional.
In the spirit of full disclosure, we wanted to let you know that we proudly support this website through advertising and affiliate marketing. In other words, when you click on a link that takes you outside of this website, we often earn a small commission. These small commissions allow us to keep the site up and running and to continue offering it completely free of charge to you. Rest assured that all content, recommendations and advice are created before, and are independent of, any sponsorship or affiliate relationship.
Click here
for more info.