Red Itchy Dog Skin Rash All Over Body & Warm to the Touch
by Jessica
(Toronto, Ontario, Canada)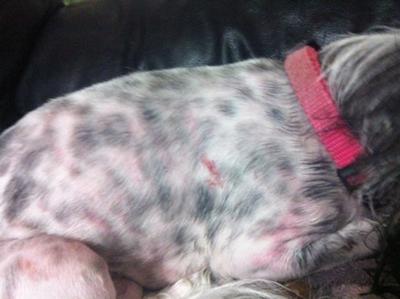 I have recently adopted a shih tzu female who has a terrible red itchy rash in spots all over her body and little patches of missing hair I did not see until I shaved her down. At times, spots are warm to the touch.
All of her skin is irritated, but now she is getting sore spots.
What could it be and is it contagious to other animals? I have a shih tzu/maltese mix as well.
Want to ask our veterinarians a

question but haven't subscribed to My Online Vet? Click here to learn how or click here to go back to the Ask a Vet Online Library of questions.
Want monthly "News You Can Use" and important Organic Pet Digest new content updates? Click here to sign up for our FREE Dog Care Monthly newsletter.
Do you believe in holistic pet care? If so, please tell your friends about us with a Facebook like, Google +1 or via Twitter, Pinterest, email or good old fashioned word of mouth. Thank you for supporting our efforts!
For additional research, search for your topic...
Also see...