Red dots under dog's armpit area with black scaly looking skin without hair
by Wei Ling
(Singapore)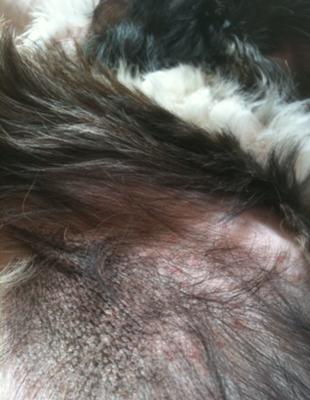 Red dots with hair loss area
My dog has a skin problem including red dots, a black scaly-like bald patch under her armpit and an oily sweat-like feel on her skin.


She is a 4-year-old Shih Tzu is allergic to dustmite and pollen and is currently under immunotherapy. My vet put her a low dosage of Prenisolone (quarter tablet every alternate day) which I try not to give to her.
RED DOTS
Once every half an year or so, she has an outbreak of such red small pimple like growth usually on her armpit or bottom. I took her to the vet one month ago as I was unable to control the spread and she was scratching quite badly. However, this round, even after a round of antibotics, the red dots did not clear.
These red dots are not apparent all the time. After an oatmeal bath or a wipe with baking soda solution, the red dots are less obvious and she is more relax and comfortable. But once she start scratching, they swell and spread. She has been scratching, resulting in hair loss on her side.
I tried to change her diet two weeks ago to eliminate the possibility of food allergy, from homecooked chicken, oat, brown rice, egg, carrot and celery which she has been taking for the last half a year or so, to homecooked fish and potato. But the red dots doesnt seem
to clear.
BLACK SCALY LIKE AREA UNDER HER ARMPIT
Due to her excessive scratching, her hair around the armpit area, on her feet and her underside has been relatively thin. The hair on her feet, side and even around her eyes do grow back (still thin though) but there is this area under her armpit that has black pigmentation forming cell like shape that doesnt grow much hair. I do not know whether it is because she still does scratch the area or are the skin permanently damaged. How can I speed up the growth of her hair after her outbreak is solved?
OILY (SWEAT-LIKE) FEEL ON SKIN
In addition to the above, the area under the armpit also produce excessive oil. I live in Singapore where is is relatively humid and hot whole year round. It feels like she sweat a lot under her armpit and this made her smell. She smells one day after bathing her. I occasionally bathe her with vet recommended shampoo with Chlorhexidine gluconate and Miconazole nitrate. Is her skin considered oily or dry? Should I bathe her with Oatmeal Shampoo for dry skin? Would Neem shampoo for pets work?
Why is she producing excessive oil and how can I resolve this?
Please do help as there is no holistic vet in Singapore and I really do not want to put my Shih Tzu on lots of medication.
Want to ask our veterinarians a question but haven't subscribed to My Online Vet? Click here to learn how or click here to go back to the Ask a Vet Online Library of questions.
Want monthly "News You Can Use" and important Organic Pet Digest new content updates? Click here to sign up for our FREE Dog Care Monthly newsletter.
Do you believe in holistic pet care? If so, please tell your friends about us with a Facebook like, Google +1 or via Twitter, Pinterest, email or good old fashioned word of mouth. Thank you for supporting our efforts!
For additional research, search for your topic...
Also see...
Disclaimers: The information contained in this web site is provided for general informational purposes only. It is not intended as nor should be relied upon as medical advice. Rather, it is designed to support, not replace, the relationship that exists between a pet owner/site visitor and his/her local veterinarian(s). Before you use any of the information provided in the site, you should seek the advice of a qualified professional.
In the spirit of full disclosure, we wanted to let you know that we proudly support this website through advertising and affiliate marketing. In other words, when you click on a link that takes you outside of this website, we often earn a small commission. These small commissions allow us to keep the site up and running and to continue offering it completely free of charge to you. Rest assured that all content, recommendations and advice are created before, and are independent of, any sponsorship or affiliate relationship.
Click here
for more info.