Red dots under dog's armpit area with black scaly looking skin without hair (Part 6)
by Loi Wei Ling
(Singapore)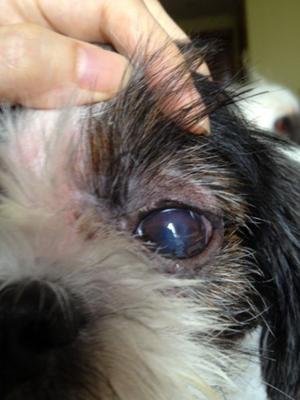 Current Eye condition 1
27th April 2012


Re: Red Eyes
Dear Dr Tillman,
Xuan Xuan took her first dosage of Mercurius Sol 30C on 14 April 2012. These two weeks, there is no significant observation. During the first few days, it seems that Xuan Xuan was "perspiring" more under her armpit and underside. I am not sure it is due to the hot and humid weather these two weeks though. But she seems to scratch a bit less but bites more on her leg and tail. Her newly little grown hair (about 1cm) on one side of her backside is gone again.
My immediate concern is her eye. She had a sore left eye two days ago. She couldnt open her eyes big and slept most of time. I am not sure how she got it and whether she violently scratch it till it is in this condition. The membrane surrounding her pupil is wrinkled and she the white portion is red.
Yesterday and today was better. She could open her eyes and is active and happy as usual as opposed to 2 days ago. But it is still red as you can see from the photo attached that I just took a few minutes ago.
But I discovered something else. She seems to have a cloudy layer that looks like a Cataract. She had this "birth mark" according to the vet since birth n her left eye which makes the white portion not too white. There is also slight cloudiness which I suspected its cataract from birth which doesnt really affect her vision from what I can see.
The 3rd and 4th photo is taken in January this year while the other two was taken just a while ago. She seems to be able to see clearly though. She was just watching people playing tennis 10 floors down that day from my full length window, tilting her head at the sound of the ball. (That was the only activity that I can see happening outside the window at that point in time)
I am a little worried by that clear cloudy layer that is visible and her eyes that are still red. Should I bring her to a normal vet or an eye specialist to get it check?
Want to ask our veterinarians a question but haven't subscribed to My Online Vet? Click here to learn how or click here to go back to the Ask a Vet Online Library of questions.
Want monthly "News You Can Use" and important Organic Pet Digest new content updates? Click here to sign up for our FREE Dog Care Monthly newsletter.
Do you believe in holistic pet care? If so, please tell your friends about us with a Facebook like, Google +1 or via Twitter, Pinterest, email or good old fashioned word of mouth. Thank you for supporting our efforts!
For additional research, search for your topic...
Also see...
Disclaimers: The information contained in this web site is provided for general informational purposes only. It is not intended as nor should be relied upon as medical advice. Rather, it is designed to support, not replace, the relationship that exists between a pet owner/site visitor and his/her local veterinarian(s). Before you use any of the information provided in the site, you should seek the advice of a qualified professional.
In the spirit of full disclosure, we wanted to let you know that we proudly support this website through advertising and affiliate marketing. In other words, when you click on a link that takes you outside of this website, we often earn a small commission. These small commissions allow us to keep the site up and running and to continue offering it completely free of charge to you. Rest assured that all content, recommendations and advice are created before, and are independent of, any sponsorship or affiliate relationship.
Click here
for more info.