Red dots under dog's armpit area with black scaly looking skin without hair (Part 5)
by Loi Wei Ling
(Singapore)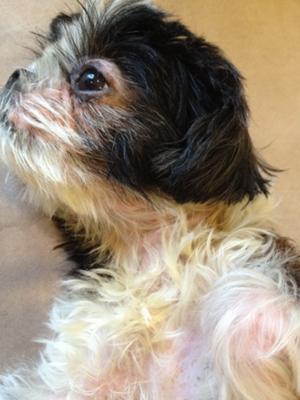 Eye and Neck area after these few weeks of scratching
Dear Dr Tillman,


22 January 2012
6 Weeks after Sulphur 1M 2nd Dosage
Xuan Xuan's condition has been quite bad for the past few weeks but improving slowly. She is quite happy now and no longer jealous or moody. I didn't manage to give her Holly though as the only Bach essence I can find in Singapore is Flower essence.
She has been scratching her neck, biting and scratching her legs and tail. As you can see from the picture, much of these are has no more hair. Till now, she rather hides inside her crate to sleep than sleep on the bed with me so that she can scratch in the middle of the night. This week, she is slightly better and very happy this week, running around and playing her toys. Only once in a while, she'll start biting her feet or her tail until the area turns red.
2 weekends ago, I brought her to my mum's place as I went away on a weekend trip. My dad took off her t-shirt in the middle of the night thinking that she'll be very hot. In the morning, her underside and armpit were red and swollen because of her scratching. It took her 5 days to recover from damp, swollen and raw skin to the dried brown skin dropping off. The injury under her right armpit also caused her to have a new beautiful layer of skin. Her old black scaly pigmented skin under her right armpit is gone. The pigmentation of the left side is still there though cos she didnt scratch it that night :)
Think since this 1M dosage was given, the sudden outburst of itch did shock me a little. But since she is steadily improving until now, I guess it is alright.
Some of her supplements like Anthronex and Immuplex is running low. I would have to order from US soon. Does she need to continue both? Is there any other medicine or supplement that you would want her to be on since I am importing from US?
Thanks for your advice. Truly grateful.
Want to ask our veterinarians a question but haven't subscribed to My Online Vet? Click here to learn how or click here to go back to the Ask a Vet Online Library of questions.
Want monthly "News You Can Use" and important Organic Pet Digest new content updates? Click here to sign up for our FREE Dog Care Monthly newsletter.
Do you believe in holistic pet care? If so, please tell your friends about us with a Facebook like, Google +1 or via Twitter, Pinterest, email or good old fashioned word of mouth. Thank you for supporting our efforts!
For additional research, search for your topic...
Also see...
Disclaimers: The information contained in this web site is provided for general informational purposes only. It is not intended as nor should be relied upon as medical advice. Rather, it is designed to support, not replace, the relationship that exists between a pet owner/site visitor and his/her local veterinarian(s). Before you use any of the information provided in the site, you should seek the advice of a qualified professional.
In the spirit of full disclosure, we wanted to let you know that we proudly support this website through advertising and affiliate marketing. In other words, when you click on a link that takes you outside of this website, we often earn a small commission. These small commissions allow us to keep the site up and running and to continue offering it completely free of charge to you. Rest assured that all content, recommendations and advice are created before, and are independent of, any sponsorship or affiliate relationship.
Click here
for more info.