Red Bump Underneath Dog's Nose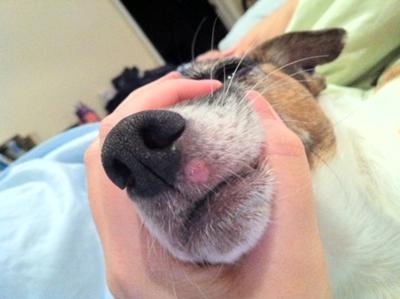 2 Weeks Ago
My dog has red bump right underneath his nose. I noticed about 2 weeks ago. Since then it has gotten bigger and redder. It almost looks like its going pop. It doesn't seem to bother him and he doesn't seem to be in any kind of pain as he lets me touch it.
He is eating and acting normal. Nothing has changed as far as his routine goes, but it has been getting warmer here and usually when it gets warmer his allergies/hot spots start to act up so he has been scratching a lot.
The itching is all in the belly/groin area and this usually happens every year when it gets warm so I doubt this is what caused the bump to develop. He also had an application of Frontline 4 days which he has had in the past and never had a problem with it.
I don't know if this has anything to do with it but lately he has been trying to bury random things around the house. When he does this, he rubs the area where the bump is located on the floor. Perhaps this is what caused it? But he has done this in the past and nothing has happened.
I'm hesitant to put any kind of cream or ointment on it due to its location being so close to his mouth. I worry he will lick anything I put there.
Buddee has been fairly healthy over the years and has not had any major health issues. However, he does have some behavioral issues like anxiety and fear of certain noises.
Should I take him to the vet? or is this something that will resolve on its own that I should just monitor and watch closely?
Do you have any suggestions on what kind of topical treatment I could use that is safe for him to ingest?
Buddee's Info:
Breed: Jack Russell Terrier
Age: 9 yrs
Diet: Currently he is eating Stella and Chewy's raw frozen food in duck flavor (usually he eats Natures Variety chicken raw) with a pump of salmon oil. I also leave out some orijen grain free kibble all day just in case he gets hungry.
Activity Level: He's not too active as he was when he was younger.. He goes to the dog park/beach about once a week.
Pic #1 is what the bump looked like when I first noticed it about 2 weeks ago.
Pic #2 is what it looks like today.
Thanks in Advance!
Jennifer
Want to ask our veterinarians a

question but haven't subscribed to My Online Vet? Click here to learn how or click here to go back to the Ask a Vet Online Library of questions.
Want monthly "News You Can Use" and important Organic Pet Digest new content updates? Click here to sign up for our FREE Dog Care Monthly newsletter.
Do you believe in holistic pet care? If so, please tell your friends about us with a Facebook like, Google +1 or via Twitter, Pinterest, email or good old fashioned word of mouth. Thank you for supporting our efforts!
For additional research, search for your topic...
Also see...