Recurring Dog Skin Issues - Itchy Skin, Oozing Skin, Hair Loss, Elephant Skin, Small White Pods & Raw Skin
by Brooke
(Maryland, USA)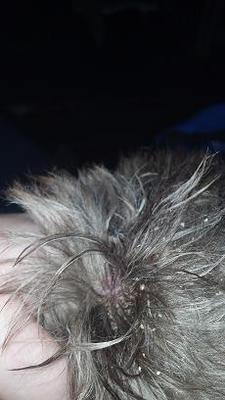 Last spring my dog started scratching a lot. Our vet diagnosed her with seborrhea and gave us a shampoo to use.


After several weeks and no improvement, we returned to the vet. Our dog was tested for mites and a bacterial infection. Both were negative. We tried steroids and they helped but after we weaned her from them the itching came back.
She also starting losing patches of hair and developed "elephant skin" on the backs of her front elbows.
Another trip to the vet and she was tested for fungus. That culture came back positive at the end of July and we started her on the sulfur/lime dip. The dip helps a lot and she was back to normal. We did not have the fungal test repeated.
At the end of September, she developed a large raw patch on the back of her neck. It oozed for a day and then healed. We started the sulfur dips again but this time they didn't help. She developed raw patches around the front of her ears and neck also. They are gradually getting better with frequent baths with a antibacterial/anti-fungal shampoo. We have not continued the sulfur dips because the weather here doesn't allow outside baths for her to air dry now.
I took her to be groomed a few weeks ago so we can get to her skin but the groomer spoke with the vet who said she was originally diagnosed with ringworm! The vet wouldn't groom her. I was never told she had ringworm and none of her spots look like ringworm. I had an argument with the vet and I have lost all confidence in her.
Last night, I noticed a patch on her paw and I decided to look at it closer. It looks like small white pods growing out of her skin. I was able to scratch them off and the area underneath them was red and raw. What is this? Can it be some kind of fungus growing from her skin?
I have attached 2 photos. One is before I trimmed her hair and scratched off the pods. The other is after but you can still see some of them at the edges.
Our dog is a 3 year old brown cocker spaniel.
Tags: Itchiness, hair loss, elephant/leathery skin on elbows, oozing skin (neck), raw skin (neck), small white "pods" that can be rubbed off (paws)
Want to ask our veterinarians a question but haven't subscribed to My Online Vet? Click here to learn how or click here to go back to the Ask a Vet Online Library of questions.
Want monthly "News You Can Use" and important Organic Pet Digest new content updates? Click here to sign up for our FREE Dog Care Monthly newsletter.
Do you believe in holistic pet care? If so, please tell your friends about us with a Facebook like, Google +1 or via Twitter, Pinterest, email or good old fashioned word of mouth. Thank you for supporting our efforts!
For additional research, search for your topic...
Also see...
Disclaimers: The information contained in this web site is provided for general informational purposes only. It is not intended as nor should be relied upon as medical advice. Rather, it is designed to support, not replace, the relationship that exists between a pet owner/site visitor and his/her local veterinarian(s). Before you use any of the information provided in the site, you should seek the advice of a qualified professional.
In the spirit of full disclosure, we wanted to let you know that we proudly support this website through advertising and affiliate marketing. In other words, when you click on a link that takes you outside of this website, we often earn a small commission. These small commissions allow us to keep the site up and running and to continue offering it completely free of charge to you. Rest assured that all content, recommendations and advice are created before, and are independent of, any sponsorship or affiliate relationship.
Click here
for more info.