Recurring dog eye infection
by Karolina Khachatryan
(Sydney, NSW, Australia)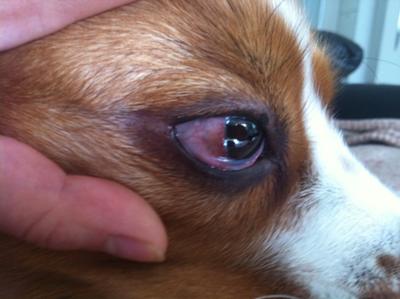 Jerry's right eye inflamed
My 4 year old cavalier cross beagle Jerry has had a recurring dog eye infection for the last two years (his height: 40cm, weight 15.5 kg).
Jerry often keeps his eyes half closed and does not like to look at the light, most probably his eyes are sore. But I don't think his eyes are itchy as he does not rub his eyes. His vision is not very sharp as he completely relies on his nose to find small objects.
Last year vet performed a procedure on Jerry to check if he had any scratches on his eyes putting green fluorescent drops. She said there were no scratches, then prescribed us to wash his eyes with saline water drops twice a day + AMACIN ointment. Couple of days after this Jerry's eyes looked better: the redness and irritation was gone but there still was a patch of dark/brown tissue covering his eye whites mainly on his right eye.
His eyes would get irritated and red from time to time. When I noticed irritation I would apply the Amacin ointment.
During our next visit to the vet a tear test was done which showed that Jerry's eyes were lubricating just enough.
Other than his eye problems Jerry had
dog yeast infection in his ears and on his paws between his toes
which were successfully treated using home remedies.
Jerry is not a food obsessed dog but he is quite a fussy eater. Recently the vet recommended to change his food from Pedigree to Royal Canine Neutered to keep his weight at a healthy under 15kg. Jerry loves chicken choosing the cooked over the raw. I do include cooked veggies in his diet a few times a week.
While looking for answers and solution to Jerry's eye problems I came across the Organic Pet Digest website and saw photos of other dogs with similar problems. In my opinion the photo describing Corneal Ulcer was very close to what Jerry has.
Looking forward to hearing from you.
Jerry & Karolina
Want to ask our veterinarians a

question but haven't subscribed to My Online Vet? Click here to learn how or click here to go back to the Ask a Vet Online Library of questions.
Want monthly "News You Can Use" and important Organic Pet Digest new content updates? Click here to sign up for our FREE Dog Care Monthly newsletter.
Do you believe in holistic pet care? If so, please tell your friends about us with a Facebook like, Google +1 or via Twitter, Pinterest, email or good old fashioned word of mouth. Thank you for supporting our efforts!
For additional research, search for your topic...
Also see...