Recurring Blood in Cat Urine
by Toni
(Weiden, Germany)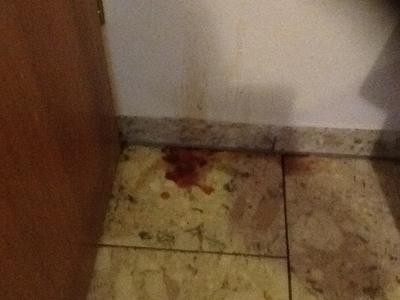 Urine. :(
1. I have a cat that is a mixed breed. I took in both her and her mother. Her mother was 1 at the time, and she was just a baby. Mother had almost constant urinary tract infections. They cleared up with wet food. The cats are now 10 and 11.


2. Now Baby (the baby cat…10 yrs.) has almost constant problems with frequent urination of blood and mucus.
3. 2 years ago I left the cats at home during the summer while my family and I took a trip back home. I got someone to watch over the cats. She was not pleased. She did not groom herself. The problems really started here.
4. She has been to the vet numerous times. They say that it's anxiety or stress.
5. Every time she comes down with a cold, she also presents these same symptoms.
6. I have been to more than one vet. They have all taken X-rays and have found that there is nothing that should be causing the blood.
7. Of course, she always responds well to pain medication and antibiotics. However, two weeks later the same symptoms come back.
7. When my mother took care of her last year, she responded well to the homeopathic remedy tincture that included a mix of Aconitum D3, Belladonna D3, Dulcamara D4, Helleborus niger D2 Vs. 4a, Juniperus communis D2 Vs. 3a, Sabal serrulatum D1 Vs. 3a, and Thuja D4. We would drop a few drops in her food, and it seemed to keep the pain and urination away.
8. Even on the remedy listed in #7, she still had mild urinary problems. She continued to pee in corners with blood.
9. She is now peeing bright blood. This is normal. It's sad, because it shouldn't be normal.
10. She is constantly licking herself.
11. She LOVES to be outside. If she is not allowed to be outside, the problem gets to be much worse. She needs to hunt.
Please help. I do think that when she is not feeling well and when she is anxious/stressed she presents most of these symptoms. She is VERY needy and craves constant attention. Please help! Thanks!
Want to ask our veterinarians a question but haven't subscribed to My Online Vet? Click here to learn how or click here to go back to the Ask a Vet Online Library of questions.
Want monthly "News You Can Use" and important Organic Pet Digest new content updates? Click here to sign up for our FREE Dog Care Monthly newsletter.
Do you believe in holistic pet care? If so, please tell your friends about us with a Facebook like, Google +1 or via Twitter, Pinterest, email or good old fashioned word of mouth. Thank you for supporting our efforts!
For additional research, search for your topic...
Also see...
Disclaimers: The information contained in this web site is provided for general informational purposes only. It is not intended as nor should be relied upon as medical advice. Rather, it is designed to support, not replace, the relationship that exists between a pet owner/site visitor and his/her local veterinarian(s). Before you use any of the information provided in the site, you should seek the advice of a qualified professional.
In the spirit of full disclosure, we wanted to let you know that we proudly support this website through advertising and affiliate marketing. In other words, when you click on a link that takes you outside of this website, we often earn a small commission. These small commissions allow us to keep the site up and running and to continue offering it completely free of charge to you. Rest assured that all content, recommendations and advice are created before, and are independent of, any sponsorship or affiliate relationship.
Click here
for more info.