Raw, Scabby, Bleeding, Pussing Growth with Round Areas on Dog's Neck
by Marsha
(Clarkston, WA)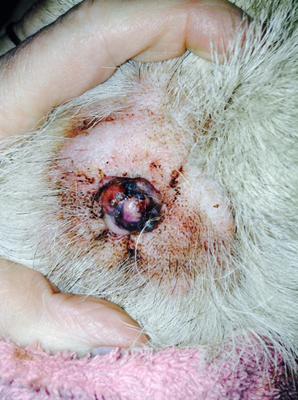 My pug has this growth on the back of her neck. It started out as a subaceous gland cyst. I kept it clean and once in a while the usual thick curdy discharge would come out of it. Then it started swelling and bleeding. It would swell up with blood and then burst and a lot of blood would come out of it and it would shrink. Then it would start swelling and filling with blood again.


Then it started forming this strange looking growth that has several rounded areas to it. It bleeds and once in a while pus comes out. Portions of it is black. Some of it is raw and scabby. It's about as big as the end of my thumb from nail bed to thumb tip.
She scratches a lot at it, especially when I try to clean it. I keep strips of cut up towels pinned around her neck to prevent her from getting her toe nails into it, also to keep from getting blood all over when she gets it to bleeding and just to cover it because it is ugly and gross.
She is a 15 year old pug, so I hesitate to take her in and have surgery to remove it. I don't know if she would survive the surgery at her age. Also, I'm not sure if it's worth the expense when she has pretty well lived out her life expectancy.
I'm just not sure what this thing is or how I can make it more tolerable to deal with. I've been giving her a mix of dry and canned food along with turmeric and Essiac tea in her food each night. She has not had vaccinations in at least 5 years & the vet is bugging me to let him vaccinate her. I have avoided going to the vet because of this.
I clean the area with hydrogen peroxide and at least once or twice a day with Essiac tea. It's a challenge to work on it because she scratches so violently when I do. I wear an oven mitt so she can scratch on that to her hearts to content while I try to clean it up.
Any ideas as to what this is and how I can treat it?
Want to ask our veterinarians a question but haven't subscribed to My Online Vet? Click here to learn how or click here to go back to the Ask a Vet Online Library of questions.
Want monthly "News You Can Use" and important Organic Pet Digest new content updates? Click here to sign up for our FREE Dog Care Monthly newsletter.
Do you believe in holistic pet care? If so, please tell your friends about us with a Facebook like, Google +1 or via Twitter, Pinterest, email or good old fashioned word of mouth. Thank you for supporting our efforts!
For additional research, search for your topic...
Also see...
Disclaimers: The information contained in this web site is provided for general informational purposes only. It is not intended as nor should be relied upon as medical advice. Rather, it is designed to support, not replace, the relationship that exists between a pet owner/site visitor and his/her local veterinarian(s). Before you use any of the information provided in the site, you should seek the advice of a qualified professional.
In the spirit of full disclosure, we wanted to let you know that we proudly support this website through advertising and affiliate marketing. In other words, when you click on a link that takes you outside of this website, we often earn a small commission. These small commissions allow us to keep the site up and running and to continue offering it completely free of charge to you. Rest assured that all content, recommendations and advice are created before, and are independent of, any sponsorship or affiliate relationship.
Click here
for more info.