Rash on Underbelly of Boston Terrier
by Melissa
(Janesville, WI)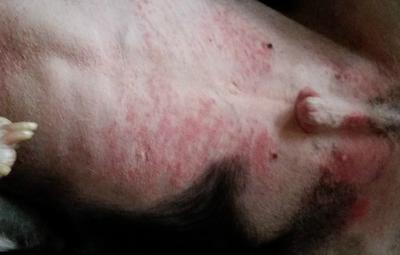 Winston is a 10 year old Boston Terrier who has struggled for the past 6 months with a rash on his belly, groin and chest. He takes Atopica 25mg daily, along with a Pro-biotic, Aller G3 supplement, Glyco-Flex supplement, and (added in the last month)Springtime Fresh Factors supplement.


He is feed grain free and eats Acana Wild Prairie. He had unsuccessful cataract surgery in 2013, and as a result lost his left eye in February due to glaucoma. He takes one drop of demacarium in the remaining eye. I also have another Boston Terrier (with the same diet and supplements), Lulu, and she has not seen any symptoms.
This rash seemed to start when I noticed a "scratch" he had to the left of his groin. When I first noticed this area, it looked like a small, roundish, raised pink scratch, and his skin was scrapped in a way that made me believe this was the case. I though he might have been scratched by a stick. I never thought any more about it.
The "scratch" then changed and looked like a squiggly line, running from the penis to the groin/hip socket. It started to yellow, ooze and crust over. It was itchy, since he would drag his belly across the floor.
The vet put him ketoconazole. The area above his penis was oozing, pussing and had a yellowish crusting. The squiggly line also crusted over. The ketoconazole seemed to work. The scratched area was very faint, but still raised and pink. Two days after taking 1/4 tab of ketoconazole for 28 days everything reappeared.
This time, I cleaned his ears and found yellow and brown goop. He showed no signs of discomfort. Back to the vet again, he sampled his ear and saw he had yeast. He put him on an ear drop, 1/4 tab of ketoconazole, 1/2 tab of prednisone, 1/2 tab of simplicef. The vet believed he had a bacterial and staph infection. Everything seemed to clear up. One week after the completion of these meds, everything reappeared as bad as it has been.
Back to the vet, the only good news was that the yeast infection in his ear had cleared up. The vet repeated the same meds as before but increased them a bit. 1/4 tab ketoconazole twice daily, 1/2 tab prednisone twice daily, 1 tab simplicef once daily. Everything cleared up, even the "scratch" seem
to disappear. It was no longer raised, and a very slight pink. It compltely disappeared from his penis. The ketoconazole and prednisone were completed three weeks ago. The simplicef was completed two weeks ago.
Everything was great and he was healed for two weeks. He did still drag his belly on the floor, but showed no symptoms. On Saturday, I ran out of Atopica and by Monday, everything had returned. In fact, the scratch grew longer. We see the vet a fourth time tonight.
Winston has a very long medical history, starting from the day I got him off the Amish farm. The day we brought Winston home, the vet misdiagnosed his bald spots on his body as allergies and prescribed Benadryl. After taking him to another vet, he was properly diagnosed with manage. This was treated properly with antibiotics, and he has been free from manage for 9 years.
Winston went through allergy testing about 6 years ago(after breaking out in hives all over his body, ears, feet), finding out he is allergic to most trees, grass, and even me! At this point, we decreased our visits to the dog park. He was then on allergy shots for over a year and it seemed to help.
Two years ago, he had a mass cell tumor removed on his hip. Last year he had cataract surgery and 10 months ago had an enucleation to remove his right eye.
He was on Atopica 25mg in 2007-2008. He started Atopica again in May 2013 and it was increased to 50mg to suppress his immune system in order to reduce inflammation to his eye from the glaucoma drops. He also had to be on cerenia during this time, since he was constantly nauseous from the increased dosage of Atopica. When his eye was removed, I stopped the Atopica.
I have not switched brands of detergents, but maybe "flavors," which I have done all his life.
Ex: Tide Febreeze to Tide Downy. Cascade Complete to Cascade Platinum.
His treats are grain free Buddy Biscuits by Cloud Star. He takes his meds in Pill Pockets Hickory Beef.
This past month, I mixed his Acana Wild Praire food with Acanca Duck and Pear to keep things interesting. For special occasions, he get a Frosty Paw.
The pictures posted are from the 3rd break out and also from this afternoon.
I hope I gave you enough detail and background!!
Want to ask our veterinarians a question but haven't subscribed to My Online Vet? Click here to learn how or click here to go back to the Ask a Vet Online Library of questions.
Want monthly "News You Can Use" and important Organic Pet Digest new content updates? Click here to sign up for our FREE Dog Care Monthly newsletter.
Do you believe in holistic pet care? If so, please tell your friends about us with a Facebook like, Google +1 or via Twitter, Pinterest, email or good old fashioned word of mouth. Thank you for supporting our efforts!
For additional research, search for your topic...
Also see...
Disclaimers: The information contained in this web site is provided for general informational purposes only. It is not intended as nor should be relied upon as medical advice. Rather, it is designed to support, not replace, the relationship that exists between a pet owner/site visitor and his/her local veterinarian(s). Before you use any of the information provided in the site, you should seek the advice of a qualified professional.
In the spirit of full disclosure, we wanted to let you know that we proudly support this website through advertising and affiliate marketing. In other words, when you click on a link that takes you outside of this website, we often earn a small commission. These small commissions allow us to keep the site up and running and to continue offering it completely free of charge to you. Rest assured that all content, recommendations and advice are created before, and are independent of, any sponsorship or affiliate relationship.
Click here
for more info.