Raised scabs, small white pustules, itchy skin on my Rottweiler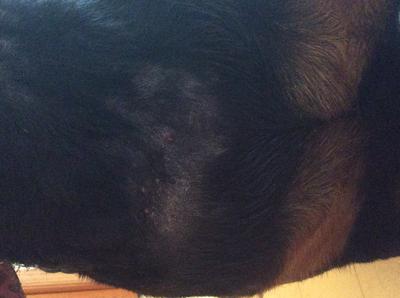 I shaved the chest area where the big crusty sore used to be
Around August I noticed a bump on my dog's head. I thought it was just a tick but when I went to pull it off it hurt her and I looked closer and saw that it was a huge raised scab. I thought she just hurt herself playing with my parents dogs at their house so I wasn't too worried but kept an eye on it.


Then my husband and I went on a trip and Lola stayed at my parents house. When we got back, she had 2 crusty oozing sores on her chest each the size of a quarter. I'm not sure if they started as raised scabs or not. They stank like crazy, almost like manure. I went home and scrubbed the crust off. We applied olive oil and a few essential oils highly diluted to soothe the area, and bathed her. The crusty sores got better and went away in a week after I started applying the mixture and the huge raised scab on her head fell off and left smooth white skin underneath.
Now I noticed she has a few more scabs, not as raised as the one on her head. They are on her chest and neck. Where the big crusty sores were are white litte skin tags that are the size of small ticks. The has one bigger bump that is split in three parts, the smaller ones are smooth. I shaved the area to get a better view.
The area seems to be a little itchy but not excessively. It is not sensitive to the touch like the scab on her head was. Her coat is shiny, she is happy and energetic.
She eats Pure Balance kibble and gets 2 tablespoons of coconut oil a day. She also gets high quality leftover meat and vegetables from our meals, maybe once or twice a week.
I am hesitant to take her to our vet because I want to avoid more antibiotics. Every time we take her in they always prescribe antibiotics for everything and it wears down her system. She is so happy and healthy otherwise!
A little backround, Lola is a ten month old Rottweiler. She has had most of the recommended shots. She has a sensitive stomach, had bad dandruff as a little puppy and got ear mites at one point.
We live on a farm where pesticides are sprayed on the fields. Since the fields are right in our backyard, she likes to run and play in them.
Want to ask our veterinarians a question but haven't subscribed to My Online Vet? Click here to learn how or click here to go back to the Ask a Vet Online Library of questions.
Want monthly "News You Can Use" and important Organic Pet Digest new content updates? Click here to sign up for our FREE Dog Care Monthly newsletter.
Do you believe in holistic pet care? If so, please tell your friends about us with a Facebook like, Google +1 or via Twitter, Pinterest, email or good old fashioned word of mouth. Thank you for supporting our efforts!
For additional research, search for your topic...
Also see...
Disclaimers: The information contained in this web site is provided for general informational purposes only. It is not intended as nor should be relied upon as medical advice. Rather, it is designed to support, not replace, the relationship that exists between a pet owner/site visitor and his/her local veterinarian(s). Before you use any of the information provided in the site, you should seek the advice of a qualified professional.
In the spirit of full disclosure, we wanted to let you know that we proudly support this website through advertising and affiliate marketing. In other words, when you click on a link that takes you outside of this website, we often earn a small commission. These small commissions allow us to keep the site up and running and to continue offering it completely free of charge to you. Rest assured that all content, recommendations and advice are created before, and are independent of, any sponsorship or affiliate relationship.
Click here
for more info.