Raised Dog Food Bowls Beneficial to Your Dog's Health
The benefits of using raised dog food bowls far outweigh the hassle of replacing your existing bowls.
We'll get to why in a moment, but in case you just can't wait to find out which raised bowls are the best, you can click one of these links to jump ahead now...
So, you may have been wondering why, after feeding all the right foods, your dog is still suffering from digestive issues.
Take a look down at those dog food bowls on the floor of your kitchen… they could be the culprit! By adjusting your dog's food and water bowls to the appropriate height, you could eliminate digestive problems along with neck and back strain and after meal vomiting.
A dog's digestive system works exactly the same as their human owner's, so imagine eating your meals, hunched over a tiny table, forced to swallow your food in a completely unnatural way.
If you don't already suffer from digestive issues like heart burn, bloating and constipation, then you surely would by taking on these eating habits.
So which raised dog food bowls are good ones? We've found a few that you'll be happy with...
Taylor Tips!

Once my owners realized the my eating posture could be causing my vomiting, they switched me to raised dog food bowls. Now I can eat in comfort and there's no more getting sick after meals!
Adjustable Height Double Diner
This raised feeder is recommended for dogs of all shapes and sizes because it can be adjusted to any desired height and the bowls can be selected according to size.
The bowls are very easy to move up and down along the center rod and it's durable so there will be no wobbling. The base of the feeder is stable due to the H-shaped base and it's made from heavy-duty iron bars.
The Adjustable Height Double Diner's qualities include: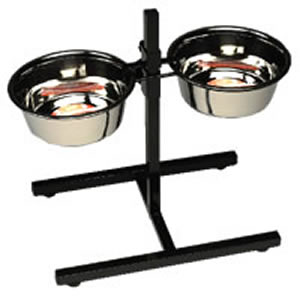 Perfect for dogs sizes 15 lbs – 150 lbs
Stainless Steel bowls available in 2 & 5 quart sizes
Bowls are machine washable
Price ranges from $19.99 – $29.99
Reviews of these raised dog bowls are very positive and a few of the reviews are posted below:
"This is a GREAT feeder! We were able to use it for our puppy as she grew and will continue to use it through her adulthood. Puppies grow SO fast and it's great to have an elevated feeder that will grow with them! Great quality, easy to use, remarkably stable and simple to clean up!"
"All in all a great elevated feeder for the money. Our Great Danes are so happy to be feeding from a comfortable position."
Click here to purchase the Adjustable Height Double Diner's Raised Bowl.
Our Pets Big Dog Feeder 16 Inch
Here's a feeder made only for the big dogs out there! It stands 16 inches high and is not adjustable, so this is not suitable for dogs under 60 lbs.
This feeder is the most sturdy of all the raised feeders we've found. It's made from heavy duty plastic with hollow legs that can be filled with sand, making it nearly impossible to tip over!
The additional Big Dog Feeder's product qualities include:
Comes with 2 extra large feeding bowls
Bowls are easy to clean and machine washable
Price is $39.99
Reviews of this feeder are positive, totaling 4 out of 5 stars on average. Here is what a couple of the reviewers had this to say about the Big Dog Feeder.
"I am so excited I found this again. We have a 115 lb Lab and an 80 lb Doberman. All other feeders are too short. The big dog feeder 16" is super and we recommend it to everyone. You won't be disappointed."
"I bought this feeder when we adopted a greyhound last year. It is the perfect height, lightweight yet durable, attractive design and above all...very reasonably priced. I cannot see spending $100+ on a dog dish!! I'd rather spend the money and a quality dog food! Well, we just adopted another Grey, so I am buying another one of these feeders today."
Click here to purchase the Our Pets Big Dog Feeder.
Do you believe in holistic pet care? If so, please tell your friends about us with a Facebook like, Google +1 or via Twitter, Pinterest, email or good old fashioned word of mouth. Thank you for supporting our efforts!
New! Comments
Have your say about what you just read! Leave a comment in the box below.
For additional research, search for your topic...
Disclaimers: The information contained in this web site is provided for general informational purposes only. It is not intended as nor should be relied upon as medical advice. Rather, it is designed to support, not replace, the relationship that exists between a pet owner/site visitor and his/her local veterinarian(s). Before you use any of the information provided in the site, you should seek the advice of a qualified professional.
In the spirit of full disclosure, we wanted to let you know that we proudly support this website through advertising and affiliate marketing. In other words, when you click on a link that takes you outside of this website, we often earn a small commission. These small commissions allow us to keep the site up and running and to continue offering it completely free of charge to you. Rest assured that all content, recommendations and advice are created before, and are independent of, any sponsorship or affiliate relationship.
Click here
for more info.