Puppy Rash with Small Round Red Lumps
by Rachel
(Sydney Australia)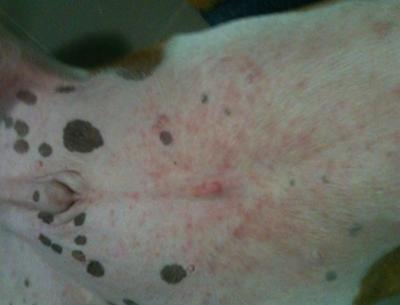 this is after we put some of the oatmeal shampoo on, it was alot redder before this
Soon after we got our puppy we noticed that he had a small rash on his stomach, small round red raised lumps approx 2mm in diameter and some had yellow pus type heads on them and were spaced about 10cm apart,but it didn't seem to bother him too much.


He is a 13 week old entire male Australian Bulldog puppy who we have had since he was 8 weeks old.
We went to the pet store and bought an oatmeal shampoo to try to get the inflammation down and it seemed to work, the pus went away and the rash was less red.
We took him to the vet at 12 weeks for his vaccinations and the vet said that the rash wasn't too bad and to wash him with a medicated shampoo called Malaseb (active ingredients 20g/L chlorhexidine gluconate and 20g/L miconazole nitrate)and to also apply the oatmeal shampoo afterwards to help stop the skin from dying out, but didn't give any conclusions as to what the rash was caused by.
We took him to the beach on Friday and he swam in the ocean and when we left he had to walk through some long grass and when we got home we noticed that the rash had spread and gotten 10 times worse than before, making us think that perhaps he had an allergy to grass.
Now the raised welts are really close together and very hot to the touch and are spread all over his chest, belly, and is creeping up his sides and he is also red on the muzzle. He is very lethargic and is constantly scratching and causing more inflammation. The pus type heads have not returned and there is not any hair loss and his ears and eyes don't seem affected, nor does he have any of the rash between his toes. His skin hasn't changed texture either.
His diet is the same as the breeder was feeding him, which is a mixture of cooked beef mince, oats, rice, honey, olive oil and Supercoat Puppy Dry food.
If he hasn't improved by tomorrow afternoon we will probably take him to the vet anyway but I'd appreciate another opinion.
Thanks
Want to ask our veterinarians a question but haven't subscribed to My Online Vet? Click here to learn how or click here to go back to the Ask a Vet Online Library of questions.
Want monthly "News You Can Use" and important Organic Pet Digest new content updates? Click here to sign up for our FREE Dog Care Monthly newsletter.
Do you believe in holistic pet care? If so, please tell your friends about us with a Facebook like, Google +1 or via Twitter, Pinterest, email or good old fashioned word of mouth. Thank you for supporting our efforts!
For additional research, search for your topic...
Also see...
Disclaimers: The information contained in this web site is provided for general informational purposes only. It is not intended as nor should be relied upon as medical advice. Rather, it is designed to support, not replace, the relationship that exists between a pet owner/site visitor and his/her local veterinarian(s). Before you use any of the information provided in the site, you should seek the advice of a qualified professional.
In the spirit of full disclosure, we wanted to let you know that we proudly support this website through advertising and affiliate marketing. In other words, when you click on a link that takes you outside of this website, we often earn a small commission. These small commissions allow us to keep the site up and running and to continue offering it completely free of charge to you. Rest assured that all content, recommendations and advice are created before, and are independent of, any sponsorship or affiliate relationship.
Click here
for more info.