Top Professional Dog Grooming Supplies
Purchasing professional dog grooming supplies can mean the difference between an average groom and a show-dog worthy style… plus you don't have to pay a lot extra if you know where to look!
Below are our reviews of the highest-value supplies and where to find them at the lowest cost…
Therapet Portable Grooming Table
The Therapet Portable Grooming Table is a great addition to your dog grooming supplies because it can be used in your home, out on your patio or can be folded up and placed in your car for on-the-go use.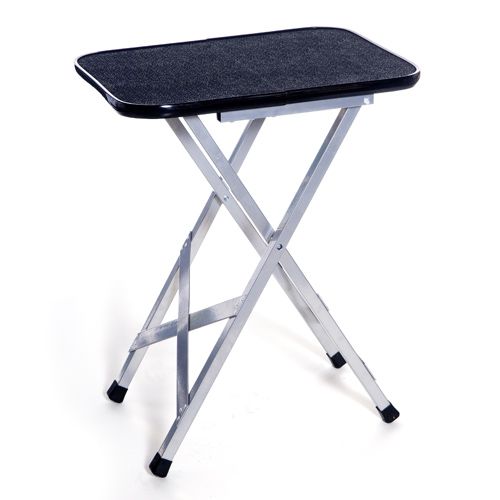 We were impressed with how sturdy yet lightweight it was, and it's extremely easy to open and close for pet-friendly travel.
Here are a few important product qualities that stood out…
Table uses stainless steel materials
Table top is made from a non-slip, durable surface (24' L x 18' W x 30' H)
Table legs are fitted with non-slip pads
Table weight is 30 lbs and it can hold up to 60 lbs
Price is $69.99 through Dog.com
Dog Grooming Scissors
Depending on which parts of the body you want to trim, you can't go wrong with any of these (links will take you further down the page)…
Miller's Forge Curved Grooming Scissors
These scissors are a safe and effective way to trim the tricky areas of the face, ears and paws.
The curved blade is much safer to use around sensitive areas since there is no sharp point at the end of the blade. These scissors are also shorter in length than average scissors, which makes trimming much easier and more exact.
In addition, we found the stainless steel construction to be extremely lightweight and comfortable in the hand.
You can get them online through PetCo (which was the least expensive we could find online) for $9.37 per pair.
Miller's Forge Thinning Pet Grooming Scissors
Thinning scissors are excellent at removing mats on both short and long-haired dogs. They are also great for overall use and general trimming when you don't want to make a sharp, definite line with your regular scissors.
The Millers Forge Thinning Pet Grooming Scissors are made of high-quality, heat-treated high carbon steel. Plus, they are hand-ground, polished and edged to ensure a quality, long lasting tool.
We tested them on the toughest mats we could find in our local grooming shop and had no problems cutting through them.
The least expensive pair we could find was through PetCo for about $15.
Four Paws Pet Products Ear Trimming Scissors
This pair of grooming scissors is made especially for trimming the inside of a dog's ears.
The finger holes are large enough for your fingers to fit but the blades are quite small and precise. This will allow you to trim the hair inside of the ear without nicking the ear itself.
As with the other two pairs, these scissors are easy and comfortable to use and cut accurately when and where we wanted.
You can find them online at Amazon.


Do you believe in holistic pet care? If so, please tell your friends about us with a Facebook like, Google +1 or via Twitter, Pinterest, email or good old fashioned word of mouth. Thank you for supporting our efforts!
New! Comments
Have your say about what you just read! Leave a comment in the box below.
For additional research, search for your topic...
Disclaimers: The information contained in this web site is provided for general informational purposes only. It is not intended as nor should be relied upon as medical advice. Rather, it is designed to support, not replace, the relationship that exists between a pet owner/site visitor and his/her local veterinarian(s). Before you use any of the information provided in the site, you should seek the advice of a qualified professional.
In the spirit of full disclosure, we wanted to let you know that we proudly support this website through advertising and affiliate marketing. In other words, when you click on a link that takes you outside of this website, we often earn a small commission. These small commissions allow us to keep the site up and running and to continue offering it completely free of charge to you. Rest assured that all content, recommendations and advice are created before, and are independent of, any sponsorship or affiliate relationship.
Click here
for more info.