Pinkish to Slightly Red Rash Under Dog Armpits
by Adam
(Tijeras, New Mexico, USA)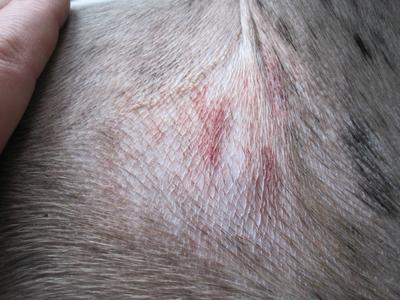 Today we noticed that our dog Molly has a pinkish to slightly red rash under both armpits. The rash appears flat with no papules, vesicles, streaking or raised areas.


There is no sign of bite, fleas, or ticks. There is no discharge or odor. The area is not hot to the touch. The temperature at her armpits is the same as her groin; which has no rash. The rash is similar on both sides.
We discontinued using a harness approximately 3-4 weeks ago as it was getting snug from her growth. She has been using a standard collar since.
Molly has not been licking, scratching or biting the area affected.
She is bathed once a month with I Love Pet Head.
Molly is a six month old Merle Great Dane. She is up to date on all her vaccinations with no recent vaccinations given. She is primarily an indoor dog with no recent interactions with other dogs. The only other animal in the house is an 8 year old male tabby with no known existing medical problems.
Molly lives in New Mexico at an elevation of 7,300 feet. She has not been exposed to any new vegetation or wildlife.
Molly eats (Natures Balance). She is fed two cups in the morning, one cup in the afternoon and one cup in the evening with no change in eating habits. She is given occasional treats made by (Zukes) and all other treats given are made in The U.S.A. She is urinating normally with no discharge, odor, change in color or frequency. She is moving her bowels normally with no diarrhea, change in frequency or color.
Molly's mood is unchanged. She is happy, energetic, playful and obeys commands given to her that she has learned.
Please see attached photos for more information. I included a picture of Molly when she was wearing her harness that we discontinued. It seems almost like a contact dermatitis. Would love any guidance you can offer to include treatment.
Want to ask our veterinarians a question but haven't subscribed to My Online Vet? Click here to learn how or click here to go back to the Ask a Vet Online Library of questions.
Want monthly "News You Can Use" and important Organic Pet Digest new content updates? Click here to sign up for our FREE Dog Care Monthly newsletter.
Do you believe in holistic pet care? If so, please tell your friends about us with a Facebook like, Google +1 or via Twitter, Pinterest, email or good old fashioned word of mouth. Thank you for supporting our efforts!
For additional research, search for your topic...
Also see...
Disclaimers: The information contained in this web site is provided for general informational purposes only. It is not intended as nor should be relied upon as medical advice. Rather, it is designed to support, not replace, the relationship that exists between a pet owner/site visitor and his/her local veterinarian(s). Before you use any of the information provided in the site, you should seek the advice of a qualified professional.
In the spirit of full disclosure, we wanted to let you know that we proudly support this website through advertising and affiliate marketing. In other words, when you click on a link that takes you outside of this website, we often earn a small commission. These small commissions allow us to keep the site up and running and to continue offering it completely free of charge to you. Rest assured that all content, recommendations and advice are created before, and are independent of, any sponsorship or affiliate relationship.
Click here
for more info.