Pink Dog Skin Rash with Black Crusty Areas & Black Spots
by Maria
(Ecuador)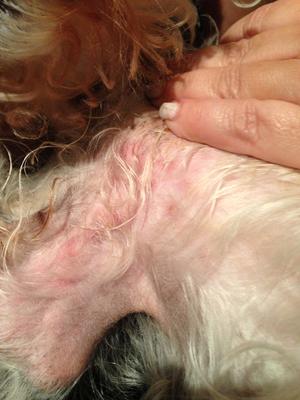 Last year my dog Bruno developed a skin allergy that the doctor treated with some antibiotics. Later we changed his food to an hypoallergenic one (Z/D Canine Ultra hypoallergenic) because we noticed that the food with proteins increased his skin problems, itching, etc. (pink spots that develop in black crusts). Right after we changed the food, we noticed that his skin improved a lot and two weeks later, he has no sign of the crusty skin.


He has been eating this food for nearly 10 months.
He is underweight (13 lbs) but his appetite is good and his always plays with my other dog (schnauzer too). Nevertheless he is a very nervous and stressful dog.
In February 2013, we moved to Ecuador in South America and we brought our dogs and the hypoallergenic food. Our dog keeps eating only the mentioned food, but again he is starting to develop the same symptoms that he had before. The symptoms were accompanied with black spots and his belly hair turned to a weird pink color (new signs).
The city that we live is very humid and hot in the 1st quarter of the year and the houses do not have air conditioning in all the areas of the house. I do not know if the weather is one of the factors.
He has been treated on and off with antibiotics but he continues to develop the pink rash one week after the antibiotics. I do not know if he became allergic to the food or something else.
He a 7 year old white/gray miniature schnauzer. Two years ago he was diagnostic with a aspergillus in his nose. He received 2 treatments and he
had a successful recovery.
P.S. Additional Information:
Bruno is a lovely dog - he has a sweet dog but is very nervous and shy personality around people. He loves to be with our family but he is not sociable at all.
He loves to play with my other dog (Henry, with a strong personality). He feels secure with Henry but also he respect him a lot.
We take them out for a walk 4 times a day for 25 minutes or so. He drinks a lot of water after the walks.
Also, I forgot to mention that our veterinarian (new doctor) perform a blood test to know how was his liver, kidneys, thyroid, etc. Everything came back fine except that he has an increase of his white cells due to the round of antibiotics that he took the last 2 months.
She thinks that he is malnourished because of his diet ( ultraa hypoallergenic diet) and she prescribed some vitamins. She also found a bacteria in his blood test that was produced by a tick or mosquito bite. She prescribed an antibiotic to get rid of that.
Regarding the food, I tried to incorporate a small amount of a new hypoallergenic food (Royal canine imported from Argentina) that has a little bit more protein, but with no good results.
Instead of that, I tried with the z/d canned food (I bring this food from USA in case of emergency, but I ran out of it) and he loves it and I also see a little improvement.
Is there any way that he can eat a homemade food?
Could I put neosporin in the affected area or give him some benadryl?
Best regards,
Maria
Want to ask our veterinarians a question but haven't subscribed to My Online Vet? Click here to learn how or click here to go back to the Ask a Vet Online Library of questions.
Want monthly "News You Can Use" and important Organic Pet Digest new content updates? Click here to sign up for our FREE Dog Care Monthly newsletter.
Do you believe in holistic pet care? If so, please tell your friends about us with a Facebook like, Google +1 or via Twitter, Pinterest, email or good old fashioned word of mouth. Thank you for supporting our efforts!
For additional research, search for your topic...
Also see...
Disclaimers: The information contained in this web site is provided for general informational purposes only. It is not intended as nor should be relied upon as medical advice. Rather, it is designed to support, not replace, the relationship that exists between a pet owner/site visitor and his/her local veterinarian(s). Before you use any of the information provided in the site, you should seek the advice of a qualified professional.
In the spirit of full disclosure, we wanted to let you know that we proudly support this website through advertising and affiliate marketing. In other words, when you click on a link that takes you outside of this website, we often earn a small commission. These small commissions allow us to keep the site up and running and to continue offering it completely free of charge to you. Rest assured that all content, recommendations and advice are created before, and are independent of, any sponsorship or affiliate relationship.
Click here
for more info.