Pink Bump On Dog's Right Cheekbone Below Lower Eyelid
by Mike
(Los Angeles, CA)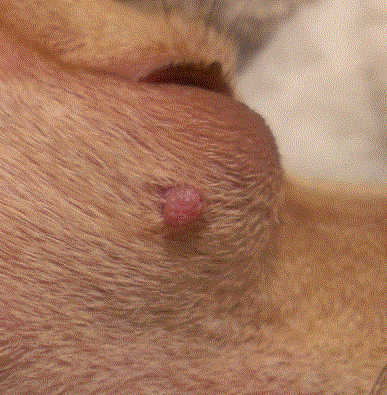 Taken 1/21/13
On January 1st, 2013 my dog Steve had a play date with a very small terrier and the two of them played for several hours, chasing each other and wrestling with their paws, etc. Later that night, I noticed what looked like a speck of dirt below his right eye. I scratched it off only to find that it was a very small scab, which then bled a very small amount.


A couple days later I noticed a pink bump forming in the same spot. Now, 3 weeks later, the bump has grown to the size of a very small pea, maybe 2-3 millimeters in diameter.
He does not seem to be scratching it, nor does it seem to bother him at all when I touch it. In general, he doesn't seem to even know it's there.
Steve is a 2 and a half year old Chihuahua/Italian Greyhound mix. He is 8 lbs, very energetic and extremely playful and happy.
He received his Distemper and Bordatella vaccines on November 20th, 2012. In general, his behavior is 100% normal since the formation of this bump.
His diet consists primarily of Nutrisca Lamb and Chick Pea dry food, which he has been eating for the past year. In early January I began supplementing his meals with unseasoned freshly cooked ground turkey meat. Additionally, he regularly eats raw carrots. His daily treats have been consistent since his adoption, 2 years ago.
Three days ago I took him to the vet and the vet immediately said the bump "was just a wart and may go away in a month or two." He also said it was possible that it was a hystiocytoma, which may need to be removed, particularly if Steve scratched it, thereby presenting a risk to his eyes.
He suggested that I return in 2 weeks or so to have Steve's teeth cleaned and that if the bump had not gone away or had grown, it should potentially be removed. Based on the attached picture, taken today, I'd like your opinion about the best course of action.
Want to ask our veterinarians a question but haven't subscribed to My Online Vet? Click here to learn how or click here to go back to the Ask a Vet Online Library of questions.
Want monthly "News You Can Use" and important Organic Pet Digest new content updates? Click here to sign up for our FREE Dog Care Monthly newsletter.
Do you believe in holistic pet care? If so, please tell your friends about us with a Facebook like, Google +1 or via Twitter, Pinterest, email or good old fashioned word of mouth. Thank you for supporting our efforts!
For additional research, search for your topic...
Also see...
Disclaimers: The information contained in this web site is provided for general informational purposes only. It is not intended as nor should be relied upon as medical advice. Rather, it is designed to support, not replace, the relationship that exists between a pet owner/site visitor and his/her local veterinarian(s). Before you use any of the information provided in the site, you should seek the advice of a qualified professional.
In the spirit of full disclosure, we wanted to let you know that we proudly support this website through advertising and affiliate marketing. In other words, when you click on a link that takes you outside of this website, we often earn a small commission. These small commissions allow us to keep the site up and running and to continue offering it completely free of charge to you. Rest assured that all content, recommendations and advice are created before, and are independent of, any sponsorship or affiliate relationship.
Click here
for more info.