Pet Banners - High Quality Design Service for Web Advertisement
Want to have pet banners created for marketing your product or service online but don't know where to start?
We can help.
For example, one customer sent us this this idea for a "slideshow" (animated gif) banner ad...
BEFORE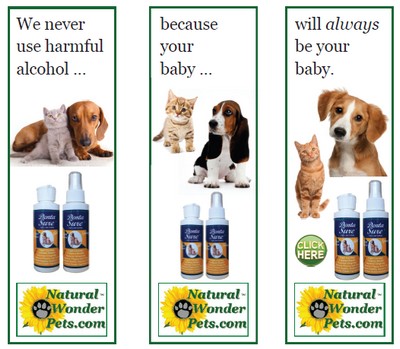 And we created these cat and dog banners...
AFTER
Send us your ideas for pet banners and we'll bring them to life in a professional, eye-catching, "get-the-click" way.
Pricing will be based on the complexity of your design and amount of details you furnish (the clearer your ideas are presented, the lower the cost). Clearly presented ideas (like the sample above) will typically range from $100 to $200 for the initial design and $25 to $50 for additional ads that are based on the initial design.
Keep in mind that the more details you provide, the less expensive your pet banners will be AND the better our designs will align with your expectations. In your request, be sure to include...
Size of pet banners in pixels (e.g. 160x600, 300x250, 728x90, etc)
Any images you would like to include in your ads. You can purchase the rights to a commercial license for professional pet-related images for a reasonable fee at the following sites:

Deposit Photos - High-quality royalty-free stock photos, illustrations and vector images
Jupiter Images - Equally impressive selection of photos, illlustrations and vector images
iCLIPART - Huge collection of royalty-free clipart

Detailed description of what you want your ad to look like. Even better, provide a rudimentary sketch (like the sample above) that outlines your ideas.
Words/messaging that you want to display in your ad.
Complete the form below and we will respond with a quote shortly...
Back to top
of Pet Banners - Pet Advertisement Creation for the Web
Do you believe in holistic pet care? If so, please tell your friends about us with a Facebook like, Google +1 or via Twitter, Pinterest, email or good old fashioned word of mouth. Thank you for supporting our efforts!
New! Comments
Have your say about what you just read! Leave a comment in the box below.
For additional research, search for your topic...
Also see...
Disclaimers: The information contained in this web site is provided for general informational purposes only. It is not intended as nor should be relied upon as medical advice. Rather, it is designed to support, not replace, the relationship that exists between a pet owner/site visitor and his/her local veterinarian(s). Before you use any of the information provided in the site, you should seek the advice of a qualified professional.
In the spirit of full disclosure, we wanted to let you know that we proudly support this website through advertising and affiliate marketing. In other words, when you click on a link that takes you outside of this website, we often earn a small commission. These small commissions allow us to keep the site up and running and to continue offering it completely free of charge to you. Rest assured that all content, recommendations and advice are created before, and are independent of, any sponsorship or affiliate relationship.
Click here
for more info.