Personalized Dog Collar Options
A personalized dog collar provides style, function or both depending on your needs. At a minimum, it allows you to include your dog's information directly on the collar, giving your dog an added level of security in case she gets lost.
Take a look at these 3 great options. We like the first two best (as long as you don't use them for a toy-sized dog). The 3rd is a good no-frills get-the-job-done choice.
Personalized Camo Dog Collar
No longer available... new option coming soon.
Polka Dot Personalized Dog Collar
No longer available... new option coming soon.
Personalized Adjustable Dog Collar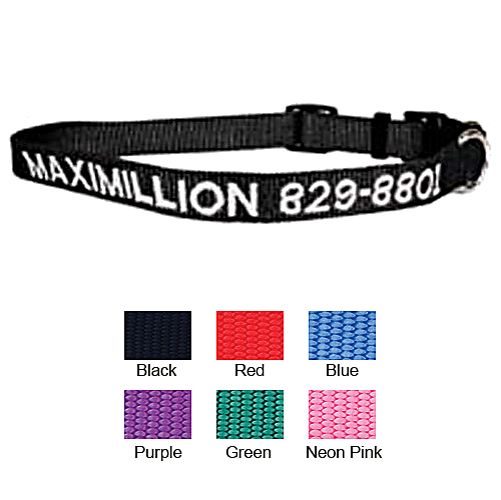 This simple personalized dog collar has no fancy frills but it does eliminate the need for noisy dog tags.
The collar is made of a woven nylon material, so this is not a natural organic option but is sturdy and can stand up to numerous machine washings and rough romps in the park.
Personalized Adjustable Dog Collar qualities include...
Personalized with your dog's name and/or phone number
Available in four adjustable sizes ranging from 8" – 26"
Also available in different widths
Six different colors to choose from
Price ranges from $14.99 to $17.99
Do you believe in holistic pet care? If so, please tell your friends about us with a Facebook like, Google +1 or via Twitter, Pinterest, email or good old fashioned word of mouth. Thank you for supporting our efforts!
New! Comments
Have your say about what you just read! Leave a comment in the box below.
For additional research, search for your topic...
Also see...
Disclaimers: The information contained in this web site is provided for general informational purposes only. It is not intended as nor should be relied upon as medical advice. Rather, it is designed to support, not replace, the relationship that exists between a pet owner/site visitor and his/her local veterinarian(s). Before you use any of the information provided in the site, you should seek the advice of a qualified professional.
In the spirit of full disclosure, we wanted to let you know that we proudly support this website through advertising and affiliate marketing. In other words, when you click on a link that takes you outside of this website, we often earn a small commission. These small commissions allow us to keep the site up and running and to continue offering it completely free of charge to you. Rest assured that all content, recommendations and advice are created before, and are independent of, any sponsorship or affiliate relationship.
Click here
for more info.