Pancreatitis Dog
by Barbara
(New Jersey)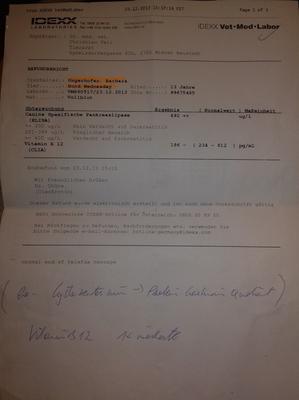 Three weeks ago, my dog got diagnosed with chronic pancreatitis. Since than we have her on a very low fat diet (Butternut Squash, Fish/Cod, Sweet Potatoes, Celery, Rice, Zucchini).


We feed her very little but more meals a day.
She is losing weight. She gets vitamin B12 shots once a week.
I noticed that she trows up a little every time, the day after she got the vitamin B12 shot.
Her chronic pancreatitis does not show many symptoms. That is why I am not sure about her healing.
She shows no diarrhea, no lethargy, no appetite lost. She occasionally acts nervous and occasionally trows up. She does not show clear symptoms of pain.
She is 13 years old, a mix, weights about 17 pounds. We spayed her three years ago.
Prior to 3 weeks ago - for about 10 years - she has been on a home cooked, mainly vegetarian diet (sometimes we add fish).
Attached are her blood work results. I did them in Austria, where I am originally from.
My vet there told me that her protein levels are normal but she is losing protein in her urine.
My question is:
To ensure a good healing, which supplements do you suggest? Probiotic, Minerals, Vitamins, Enzymes, Detox, Fish oil? Can you recommend a specific brand and product?
I highly appreciate if you could answer as specifically as possible. I know there are a lot of supplements on the market but that makes it so hard for me to choose the right one. This is why I came across your website.
If possible, please also advise me to her diet, and if you have any other suggestions related to her condition.
Thank you,
Barbara
Editor Update: Following are links to larger versions of each of the 3 blood work reports:
-
Dog Pancreatitis Blood Work Report 1
-
Dog Pancreatitis Blood Work Report 2
-
Dog Pancreatitis Blood Work Report 3
Want to ask our veterinarians a question but haven't subscribed to My Online Vet? Click here to learn how or click here to go back to the Ask a Vet Online Library of questions.
Want monthly "News You Can Use" and important Organic Pet Digest new content updates? Click here to sign up for our FREE Dog Care Monthly newsletter.
Do you believe in holistic pet care? If so, please tell your friends about us with a Facebook like, Google +1 or via Twitter, Pinterest, email or good old fashioned word of mouth. Thank you for supporting our efforts!
For additional research, search for your topic...
Also see...
Disclaimers: The information contained in this web site is provided for general informational purposes only. It is not intended as nor should be relied upon as medical advice. Rather, it is designed to support, not replace, the relationship that exists between a pet owner/site visitor and his/her local veterinarian(s). Before you use any of the information provided in the site, you should seek the advice of a qualified professional.
In the spirit of full disclosure, we wanted to let you know that we proudly support this website through advertising and affiliate marketing. In other words, when you click on a link that takes you outside of this website, we often earn a small commission. These small commissions allow us to keep the site up and running and to continue offering it completely free of charge to you. Rest assured that all content, recommendations and advice are created before, and are independent of, any sponsorship or affiliate relationship.
Click here
for more info.