Painful Bleeding Bumps with Warts on Dog's Paws
by Miluska
(San Diego, CA)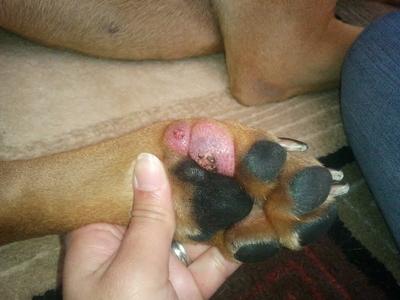 Bottom of my dog's paw - notice the two bumps
At first my dog would get bumps all over his body, the vet said he is too young to get an allergy test so they prescribed fish oil, hypoallergenic shampoo and conditioner. This worked and he no longer gets those itchy bumps on his body.


Months later I started noticing the bottom of his paws were reddish and turning a dark color. After taking him to the vet, the said he had a yeast infection and gave me a spray by GlenHaven Therapeutics (Rx: Hexachlor -K) to spray in between his toes daily.
Soon after, he got a red bump on the bottom of his back paw. I thought it was like a pimple but it grew and that is the biggest bump in the picture.
We took him to the vet and he got a needle aspiration. The results showed no cancerous cells or bacteria, and the vet said it was blood. But as you can see in the picture he now has another bump right below the first one and another bump on his front paw.
We took him to the vet again, they gave him a steroids shot and put him on antibiotics (tramadol) because he often bleeds from the bumps that have now developed warts.
Yesterday was his follow-up and once again they prescribed him more antibiotics (Rx: cefpodoxime proxetil) and benadryl (hydroxyzine) and told us to take him to a dermatologist.
At this point, my husband and I are looking for alternatives. Our poor boy bleeds from these bumps and starts limping after running. So far, we have changed his diet to a grain-free diet and we are soaking his feet in Epsom salt every other day
The vet cant determine what exactly his bumps are and I want to get other opinions before I consider paying 1000 for surgery.
What can I do to help these bumps go away?
By the way, Achilles is a 9 month old Boxer that has had skin issues since I got him.
Want to ask our veterinarians a question but haven't subscribed to My Online Vet? Click here to learn how or click here to go back to the Ask a Vet Online Library of questions.
Want monthly "News You Can Use" and important Organic Pet Digest new content updates? Click here to sign up for our FREE Dog Care Monthly newsletter.
Do you believe in holistic pet care? If so, please tell your friends about us with a Facebook like, Google +1 or via Twitter, Pinterest, email or good old fashioned word of mouth. Thank you for supporting our efforts!
For additional research, search for your topic...
Also see...
Disclaimers: The information contained in this web site is provided for general informational purposes only. It is not intended as nor should be relied upon as medical advice. Rather, it is designed to support, not replace, the relationship that exists between a pet owner/site visitor and his/her local veterinarian(s). Before you use any of the information provided in the site, you should seek the advice of a qualified professional.
In the spirit of full disclosure, we wanted to let you know that we proudly support this website through advertising and affiliate marketing. In other words, when you click on a link that takes you outside of this website, we often earn a small commission. These small commissions allow us to keep the site up and running and to continue offering it completely free of charge to you. Rest assured that all content, recommendations and advice are created before, and are independent of, any sponsorship or affiliate relationship.
Click here
for more info.