Open Wound on Dog's Neck That Won't Heal
by Cindi
(San Diego, CA)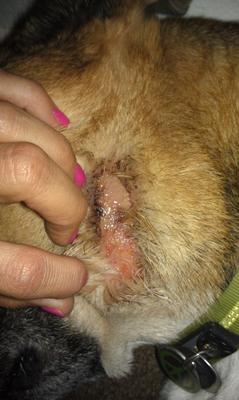 Dog neck wound a it is now
I noticed an open wound on my dog's neck about a week ago. On two separate nights about a day apart, I used peroxide to clean the wound and I used neosporine multiple nights in a row. It does not seem to be getting any better. Sometimes I see a little red like he had scratched it but for the most part it looks white and oozy.


When I found the wound the hair was, for the most part, already gone. There was a couple little chunks of hair that I pulled out easily while cleaning it.
The wound does not smell bad. For the first time today there looked to be a little yellowish- greenishness around the edges.
He also has a small sore on his hind leg and small wound behind his right ear (see photos).
His energy is normal and his appetite is normal.
Should I cut away more hair away around the wound?
I tried wrapping it, but it is on a part of his neck that makes that impractical, the wrap will not stay. Please tell me what I can do to make this thing start healing.
In the attached photograph, you have a close up shot of the wound as well as how the wound looks when I am not holding the hair away from it.
Thank you so much!!
P.S. Each of the issues in the photos above have been present for about a week..
I just thought about the fact that I gave him a bath a few days ago and used 365 organic shampoo. for the first time. I was rinsing for a long time - it was difficult to rinse, I figured I had to have got it all cause I was rinsing him for close to 10 min... could this be from not rinsing enough?
He used to have scabs all over his butt whenever he got into food he shouldn't have, but this problem went away when I switched his food to evo-salmon and herring.. he now eats the food called "Now" and it has worked well.
I did just start mixing his food with evo food cause I got a free bag. he is eating 75% 'Now' and 25% evo.. not sure if this could contribute.
Thank you!
Want to ask our veterinarians a question but haven't subscribed to My Online Vet? Click here to learn how or click here to go back to the Ask a Vet Online Library of questions.
Want monthly "News You Can Use" and important Organic Pet Digest new content updates? Click here to sign up for our FREE Dog Care Monthly newsletter.
Do you believe in holistic pet care? If so, please tell your friends about us with a Facebook like, Google +1 or via Twitter, Pinterest, email or good old fashioned word of mouth. Thank you for supporting our efforts!
For additional research, search for your topic...
Also see...
Disclaimers: The information contained in this web site is provided for general informational purposes only. It is not intended as nor should be relied upon as medical advice. Rather, it is designed to support, not replace, the relationship that exists between a pet owner/site visitor and his/her local veterinarian(s). Before you use any of the information provided in the site, you should seek the advice of a qualified professional.
In the spirit of full disclosure, we wanted to let you know that we proudly support this website through advertising and affiliate marketing. In other words, when you click on a link that takes you outside of this website, we often earn a small commission. These small commissions allow us to keep the site up and running and to continue offering it completely free of charge to you. Rest assured that all content, recommendations and advice are created before, and are independent of, any sponsorship or affiliate relationship.
Click here
for more info.