Non-itchy, red inflamed dog rash appeared ALL OVER belly and legs
by Andrea Meadows
(Mount Desert, ME)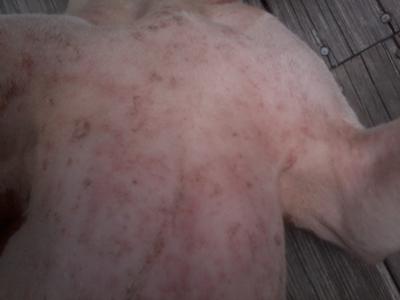 My 2 year old female Staffordshire Bull Terrier has developed a rash all of a sudden. But it does not seem to bother her and she does not scratch it. The pictures are from this morning, and the rash isn't nearly as red or inflamed as it was yesterday.


We have just moved from Wisconsin to Maine - the weather is the same and the pollen is the same. There are a few more plants, but it's not much different as far as climate goes.
We got her at 5 months of age, and she has always had sensitive skin, so we make sure to feed a food with lots of omega 6. We had her on Wellness Core (the ocean formula) for a while, but then switched to Taste of the Wild (roasted Fowl flavor) - both are grain-free foods. She has been on this food for at least 6 months now.
She has also been on Frontline for months, and even with our recent encounter with fleas, she did not get them.
When we first saw her belly it just seemed like lots of scratches, as she does run like a maniac through the country woods with our other dogs. We thought it was scratches because she has almost no fur on her belly and no undercoat for protection against twigs and branches. She has NOT lost fur with this rash by the way.
One recent thing that I can think of that may have done this to her is the flea encounter - my other dog got the fleas, but she did not. So I went out and bought "Flea-breeze" for carpets and sprayed all of our carpets with it. I sprayed it at night, waited for it to dry overnight, then vacuumed the next morning.
The only other change is now instead of going to the bathroom on a leash, my dogs use an old chicken coop (fenced in) for their bathroom - but neither of my other dogs have this problem (they are a 4 year old female, black lab and a 4 year old male husky/malamute mix).
If the "flea-breeze" is the most likely reason for her rash, what is the best treatment?
If not, what might it be? We have only noticed it the past few days. We have not attempted anything, just in case.
She has never had anything like this before - only a bit of dry skin before we got her on good food. She is completely vaccinated - but has not had any recently.
Want to ask our veterinarians a question but haven't subscribed to My Online Vet? Click here to learn how or click here to go back to the Ask a Vet Online Library of questions.
Want monthly "News You Can Use" and important Organic Pet Digest new content updates? Click here to sign up for our FREE Dog Care Monthly newsletter.
Do you believe in holistic pet care? If so, please tell your friends about us with a Facebook like, Google +1 or via Twitter, Pinterest, email or good old fashioned word of mouth. Thank you for supporting our efforts!
For additional research, search for your topic...
Also see...
Disclaimers: The information contained in this web site is provided for general informational purposes only. It is not intended as nor should be relied upon as medical advice. Rather, it is designed to support, not replace, the relationship that exists between a pet owner/site visitor and his/her local veterinarian(s). Before you use any of the information provided in the site, you should seek the advice of a qualified professional.
In the spirit of full disclosure, we wanted to let you know that we proudly support this website through advertising and affiliate marketing. In other words, when you click on a link that takes you outside of this website, we often earn a small commission. These small commissions allow us to keep the site up and running and to continue offering it completely free of charge to you. Rest assured that all content, recommendations and advice are created before, and are independent of, any sponsorship or affiliate relationship.
Click here
for more info.