Mysterious Sores & Flaky Skin on Dog
by Taylor S.
(Marietta, GA)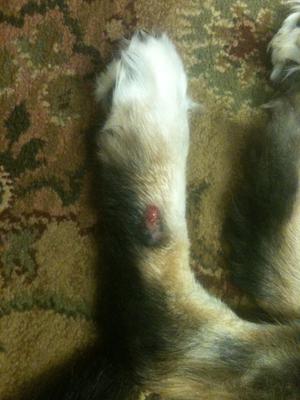 Photo 1 - Sore on dog's back left leg
My dog, Asia, has a number of concerning ailments that I'm not sure have been properly treated.


The most noticeable one is a half-dollar sized sore in the middle of her back left leg. When my family first noticed it about a month ago, they said it was very red and bleeding a lot.
After two or three weeks of putting Sentry Wound Cream on it, it looks like it currently does in the picture—kind of like an old infected burn, except it's not actually a burn. And it's raised up off of her foot about a half inch.
The second one is a bump in the middle of her back right leg. It's somewhat hidden under her fur, but it's dime-sized, pink, and protruding about a third to a half inch off of her foot.
The last thing is flakiness on her lower back, right above her tail. I'm told they noticed that about two or three days after they noticed the bleeding sore on her foot.
Apparently, it started off just a light pink partially bald spot. Then Asia started nipping at it a lot and it got redder and started to bleed, so they also began treating it with Sentry Wound Cream.
After that was when it started flaking, as it is in the picture. The flakes are thick and "peeling scab-like" more than "dandruff-like." It's not so bald anymore either. I had to pull her hair back for the picture.
Asia is a 13-year old female German Shepard collie mix. I have been away at school in Ohio, and learned about the above issues when I came home to visit.
Two weeks after discovering these ailments, they gave her a bath with Sentry Flea and Tick shampoo, and sprayed her with Adams Flea and Tick Mist. They say she stopped nipping at her back sore as much after that, however, she still continues to nip at her feet.
I should probably mention that my family lives on a property in Georgia where the backyard is somewhat of a woodsy area. They have since cut down most of the trees and bushes, but a few remain.
However, Asia typically does not venture out into that area, she seems to dislike being outdoors, outside of going to the bathroom. Although it does happen sometimes.
She is not currently on any medications, and has not been to see a vet in years because of affordability in this area.
So, I guess my question is... what could this be and how can I help her?
Taylor
Want to ask our veterinarians a question but haven't subscribed to My Online Vet? Click here to learn how or click here to go back to the Ask a Vet Online Library of questions.
Want monthly "News You Can Use" and important Organic Pet Digest new content updates? Click here to sign up for our FREE Dog Care Monthly newsletter.
Do you believe in holistic pet care? If so, please tell your friends about us with a Facebook like, Google +1 or via Twitter, Pinterest, email or good old fashioned word of mouth. Thank you for supporting our efforts!
For additional research, search for your topic...
Also see...
Disclaimers: The information contained in this web site is provided for general informational purposes only. It is not intended as nor should be relied upon as medical advice. Rather, it is designed to support, not replace, the relationship that exists between a pet owner/site visitor and his/her local veterinarian(s). Before you use any of the information provided in the site, you should seek the advice of a qualified professional.
In the spirit of full disclosure, we wanted to let you know that we proudly support this website through advertising and affiliate marketing. In other words, when you click on a link that takes you outside of this website, we often earn a small commission. These small commissions allow us to keep the site up and running and to continue offering it completely free of charge to you. Rest assured that all content, recommendations and advice are created before, and are independent of, any sponsorship or affiliate relationship.
Click here
for more info.