Mucocutaneous Pyoderma (Incl. Lip Fold Pyoderma / Dermatitis)
by Keely
(England)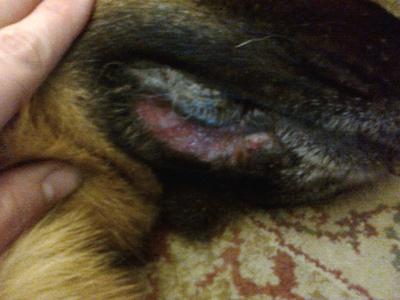 Right lip fold photographed at it worst prior to Allimed stabilised allicin capsules..
For the past two years my 8 year old male german shepherd called Murry has been afflicted with what I believe to be Mucocutaneous pyoderma (but I have not seen a vet about this to confirm it as I did not want him going on loads of antibiotics and totally destroying his gut bacteria and thus immune system.)


He has the classic lip fold pyoderma / dermatitis symptoms combined with mildly inflamed and slightly swollen prepuce. It does not seem to bother him much but the lip fold pyoderma can make his mouth itch and he rubs his mouth and chin on the furniture.
I have researched a lot and tried most things over the past two years to tackle it.. Here is some background information..
I believe it may have started due to over vaccination due to pressure from my vet because my dog missed a booster. He insisted he have both puppy jabs done all over again. This happened back in the days when I didn't know any better and still fed dry dog food and didn't know anything about holistic dog rearing. I no longer go to that vet.. I no longer have booster/excessive vaccinations done..
In the summer following the repeat vaccinations my dog developed what appeared to be Demodex mange on his face (a little patchy fur, a little red and a bit itchy). It could have been from pollen allergy but he only ever had it that one summer and hasn't had it since.. Then in the following spring he developed what l believe to be Mucocutaneous pyoderma (affecting lip fold and prepuce) and I have been battling it ever since.. This is what I have done so far:
That early summer after research I changed him over to a completely raw diet. Mainly chicken, lamb ribs, liver and other offal, occasional egg, occasional tinned pilchards in olive oil , some homemade yogurt or Kefir, some sauerkraut and limited veg and fruit.
(He has no grains or pet food treats. I don't believe in grain feeding at all based on current scientific research. . for e.g.: Scientist Alessio Fasano has now proven that gluten up regulates the zonulin protein in the gut leading to gut permeability. I generally avoid grains and heavy carbs myself so I certainly don't give those to my dog either. Also don't think regularly raising insulin levels is a good thing and I believe that excess glucose probably promotes the growth of pathogenic bacteria in the gut which can then lead to dysbiosis)
Murry is regularly supplemented with:
Herbs, rosemary, thyme, sage, oregano, garlic, cider vinegar, coconut oil, olive oil, hemp seed oil, dandelion root, kelp, plenty of turmeric, some fenugreek, prebiotics (a little inulin and/ or gum arabic).., honey, homemade sauerkraut, Kefir, homemade yogurt made with BioKult probiotic capsules.
I have just started adding wheat grass powder and cinnamon too.
This year I have been cleaning the lip 2 to 4 times per day with Hibiscrub dilution 10:1 since I found that this is veterinary recommended but I have now stopped using this as I have heard it may be a hormone disrupter.. However it is the only thing that has really made any difference in regards to topical treatment and besides that I have tried topically:
Honey any garlic (worked well at first but must use low dilution of garlic to avoid burning the skin)
Coconut oil
Manuka oil
Manuka Honey
Rosemary oil diluted in olive oil carrier
Probiotic used topically,
Kefir or homemade probiotic yogurt applied.
Grapefruit seed extract dilution.
Serrapeptase (to help break down any biofilm that may be present)
A few months ago I started using 'Allimed' allicin capsules.. 1 capsule 4 x daily. Expensive but excellent. It improved the condition within about two weeks by about 80%. It completely cleared his left lip fold pyoderma completely, it reduced the swelling on his prepuce although it still remains red and I can see the infection is not completely cleared there. The right side lip fold pyoderma nearly cleared but there still remained a small patch of infection.
A few weeks after starting the Allimed capsules I cut him down to 3 Allimed capsules daily and have kept him on them till this day hoping that it would clear the remainder of the infection. Unfortunately this past month the infection on his right side of his mouth has worsened and I feel the infection is worsening again..
Some things to note are:
His teeth are pretty much immaculate due to the raw diet, lamb rib bones and fermented foods which I believe have all had a very positive impact on his teeth.
I don't give him a lot in the way of vegetables and the ones I do give are generally low carb such as liquified broccoli occasionally.. Maybe I should be giving him more vegetables..??
He has a small marble-sized lump on one cheek which is firm but not hard and moves around when manipulated. I believe it is a lipoma and he has had it for years since it started appearing when he was a a puppy.
He has another small lump about 12mm across in diameter on his right front paw just above his dew claw that I discovered a few weeks ago. It is also fairly firm but not hard and moves a little when manipulated and does not seem to cause any discomfort. I measured it when I found it and it does not seem to have grown since and I continue to monitor it.
Despite a raw diet and trying to heal his gut (I assumed this may be part of the problem) with probiotic, prebiotics and herbs, I now think I am starting to go backwards again.
I now strongly believe there must be an underlying cause that I am not addressing.
Please Dr Tillman, if you have any suggestions I would be ever so grateful to you. I think Lupus is unlikely since the condition has been so responsive to the Allimed which is both strongly antibacterial and anti fungal. However I feel his immune system must surely be compromised in some way or else the condition would have resolved.
One thing I have not tried is food elimination such as taking chicken out of his diet. Before I switched to a raw diet, the main protein in the Arden Grange food I used to feed him was chicken and his raw food staple is chicken.. I wonder if he might have developed an allergy to it?
Any help you can offer would be gratefully received.
Many thanks,
Keely (in the UK)
(Update: I have just started him on a elimination diet. I have cut out dairy and chicken 3 days ago.. his infection definitely seems to have improved a bit since then but I realise its very early days and could just be a coincidence..)
Want to ask our veterinarians a question but haven't subscribed to My Online Vet? Click here to learn how or click here to go back to the Ask a Vet Online Library of questions.
Want monthly "News You Can Use" and important Organic Pet Digest new content updates? Click here to sign up for our FREE Dog Care Monthly newsletter.
Do you believe in holistic pet care? If so, please tell your friends about us with a Facebook like, Google +1 or via Twitter, Pinterest, email or good old fashioned word of mouth. Thank you for supporting our efforts!
For additional research, search for your topic...
Also see...
Disclaimers: The information contained in this web site is provided for general informational purposes only. It is not intended as nor should be relied upon as medical advice. Rather, it is designed to support, not replace, the relationship that exists between a pet owner/site visitor and his/her local veterinarian(s). Before you use any of the information provided in the site, you should seek the advice of a qualified professional.
In the spirit of full disclosure, we wanted to let you know that we proudly support this website through advertising and affiliate marketing. In other words, when you click on a link that takes you outside of this website, we often earn a small commission. These small commissions allow us to keep the site up and running and to continue offering it completely free of charge to you. Rest assured that all content, recommendations and advice are created before, and are independent of, any sponsorship or affiliate relationship.
Click here
for more info.